India man held for 'beheading' wife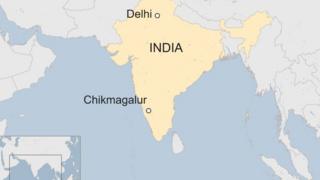 Police in the Indian state of Karnataka have arrested a man who they say walked into a police station carrying his wife's severed head in a bag.
Officials told the BBC that Satish SG arrived at the station in Chikmagalur district and confessed to killing his wife. He has been charged with murder.
He is alleged to have killed her because he suspected she was in an extra-marital relationship, they added.
The couple had been married for seven years and have two young children.
Police say he will appear in court on Tuesday.
A senior police official added that the suspect's wife had earlier come to the police for help.
"We were aware that the couple were going through some family issues. We even counselled them a few times but we didn't know that he suspected her of having an extra-marital affair," he said.
Domestic violence has been the most reported violent crime against women in the country every year for more than a decade now.
"Instances where a husband kills his wife are rare but when they do happen, the reason often is doubt, property matters or an extra-marital relationship," said Rekha Sharma of the National Commission for Women.