India killing: 'My father ordered my husband's murder'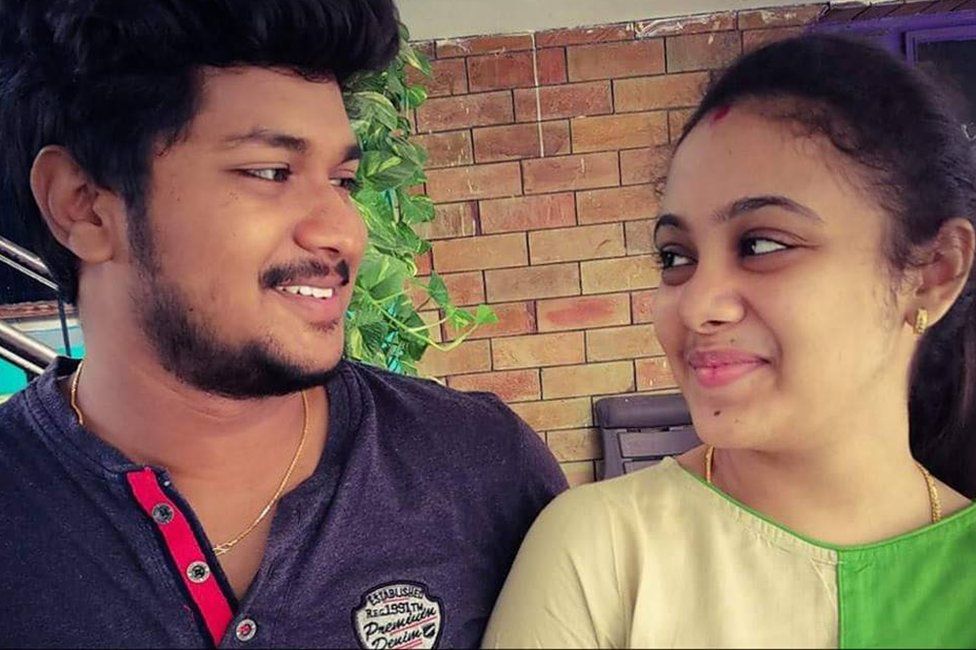 On 14 September, Pranay Perumalla was murdered in front of his wife, Amrutha, in an alleged honour killing. BBC Telugu's Deepthi Bathini spoke to Amrutha, whose father has been arrested for plotting the attack.
Amrutha and Pranay were high school sweethearts in Miriyalaguda, a small town in the southern Indian state of Telangana. They first met at high school.
"We always liked each other. We used to talk a lot on the phone and then we fell in love," she says with a wan smile.
Amrutha, 21, belongs to a wealthy, upper-caste family, while Pranay, who was 24, was a Dalit (formerly untouchable). In April 2016, they married despite her parents' objections. Now five months pregnant, she finds herself saying the unimaginable.
"My father killed my husband because he did not belong to the same caste as me."
There is no official data but according to one study, hundreds of people are killed each year in India in so-called honour killings - for falling in love or marrying against their families' wishes. Many families still prefer arranged marriages within their own caste and religion.
Police have arrested Amrutha's father, Maruti Rao, and six others, including Mr Rao's brother and three alleged contract killers, in connection with the murder. District superintendent AV Ranganath told reporters that Mr Rao had allegedly conspired with his brother and two other men to kill Pranay - and those men had helped him hire the contract killers for a sum of 10 million rupees ($138,000; £104,000).
He added that the attack outside the hospital was the fourth attempt on Pranay's life.
Mr Ranganath also said that Mr Rao had admitted to the charges and had said he had done this because Pranay was a Dalit and his family was not wealthy.
But Mr Rao and the other accused have made no independent statement about the charges. The BBC contacted Mr Rao's lawyer who said he had no comment. The BBC also visited Mr Rao's house but found it empty and no other members of the family have provided a response.
On the day of the murder, Amrutha woke up late. Her back was aching, so she went to the hospital for a check-up. Pranay and her mother-in-law accompanied her.
When they left the hospital, she recalls asking Pranay, who was a few steps behind her, a question. When he didn't answer, she turned around and saw him lying on the ground.
CCTV footage from the hospital, which has been broadcast on national news channels, shows a man following the family as they walked out of the gate. He first hacked at Pranay's upper body with what appears to be an axe. When Pranay fell, he struck him again.
Amrutha says her mother-in-law pushed the man away, while she ran inside the hospital to get help.
"When I called my father to confront him, he said, 'so what should I do? Take him to a hospital?'" she says.
Growing up, Amrutha says, her mother discouraged her from even making friends with children from other castes. So her parents were against her relationship with Pranay from the moment they found out about it. But that didn't stop Amrutha.
"We had to run away to see each other. But I did not care about his caste or how much money his family had. What was important was that we loved each other."
At one point in April 2016, Amrutha says, her parents locked her up at home. "I did not have a way to speak to Pranay but what kept me going was my love for him," she says. Eventually, she managed to escape.
They married in January 2018 and moved in with Pranay's parents, who had accepted their marriage.
Amrutha says they were planning to move to Canada when she found out she was pregnant. They decided to wait until the baby was born.
She told her parents about the pregnancy hoping it would soften their stance. But to her shock, her father asked her to have an abortion. And he said so every time she spoke to him after that.
"We always lived in fear but I never thought my father would resort to such cruelty," she says.
No-one in her family has called her since Pranay died - not even her mother, who used to phone her frequently.
"I thought it she used to call me out of concern," Amrutha says. But now, she can't help but wonder if her mother was telling her father about their conversations, perhaps without realising his intentions.
Meanwhile, Pranay's parents and Amrutha have received plenty of support.
Several Dalit rights groups and women's groups have visited the house to express solidarity. On the veranda, there is a photograph of a smiling Pranay surrounded by flower petals and lit candles. Even as Amrutha is speaking, she can hear shouts of "long live Pranay" from the veranda of the house where supporters have gathered.
Hearing this, Pranay's mother, Hemalatha, breaks down. Amrutha, who also starts crying, consoles her. "I blame my whole family. I will not go back to them. Pranay's parents are my parents now," she says.
She has started a Facebook page, Justice for Pranay, which has drawn more than 112,000 followers in just a few days. And several other pages with the same name have cropped up, all of them expressing outrage and appealing for justice.
She has been very active on Facebook, posting photographs of rallies and messages of support as well as of her and Pranay. In one photograph, they are much younger - the caption says, "Born to be together forever."
She has also shared a photograph of a police officer escorting her father - the text above it says, "do not let my father out".
"Pranay's killing reminded me of my Shankar," she told BBC Tamil. "Her love for him will make her strong. She says that she is going to stand against caste and that she is going to get justice for Pranay. We will stand with her."
Amrutha says Pranay had always told her that caste should not stand in the way of love.
"Both of us decided to fight for our love. Now, I will fight for justice," she says. "But I am also worried that my father might harm my baby or my in-laws."