The Dalai Lama: Intimate portrait of a spiritual leader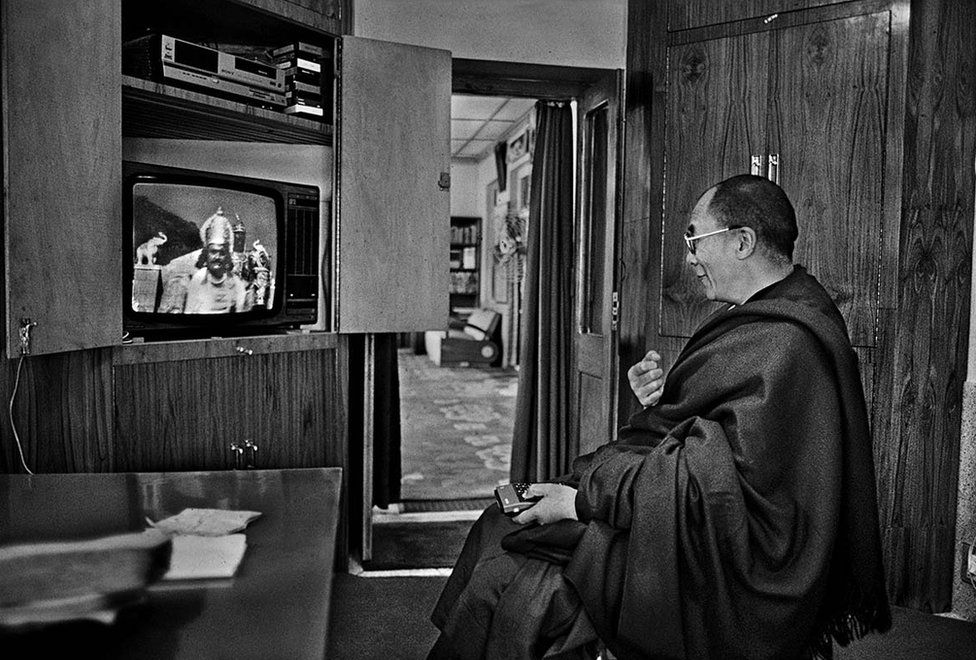 A new book by acclaimed Indian photographer Raghu Rai offers an unprecedented glimpse into the life of one of the world's leading religious figures.
A God In Exile is the result of a photographer's decades-long insight into his muse. Rai took his first picture of the iconic Tibetan spiritual leader in 1975.
He recalled being stopped by the Dalai Lama's security. "I somehow managed to make eye contact with His Holiness and asked him if I could take some photos of him. He smiled and said yes," Rai told the BBC.
Over the years, he has photographed the Dalai Lama many times and has cultivated a "deep friendship".
In March 1959, as Chinese troops crushed an attempted uprising in Tibet, the 14th Dalai Lama, who was born Tenzin Gyatso, fled into India. He was then a young man in his mid-20s.
He was offered asylum by the Indian government and he settled in the northern town of Dharamsala. He was followed into exile by about 80,000 Tibetans, most of whom settled in the same area.
Thronged by Tibetan worshippers and​ ​tourists, the Dalai Lama is seen in the above image blessing a woman at a ceremony.
"When he sees his Tibetans, my god! You should see his eyes! It's like a grandfather doting on his grandchildren," Rai says.
In 2014, Rai decided to curate the hundreds of photos he had taken of the Dalai Lama and compile them into a book - a project which, he said, has been in the making for 40 years.
Many of the photos in the collection capture the Dalai Lama in candid moments, giving us an intimate glimpse into his everyday life.
"He loves to play with animals - I was waiting for him one day when he suddenly showed up with a cat," Rai says.
Rai also captured scenes from the Dalai Lama's 80th birthday celebrations in 2015 at home in Dharamsala.
He hosted his siblings, including his older brother, Gyalo Thondup (pictured above), whom he introduced to guests as a "troublemaker".
The book's preface, written by Rai, offers readers an account of his interactions with the Dalai Lama.
"He left an indelible impression on me - gentle, gracious, humble and full of wonder. It is peculiar to say such a thing, but I got the strange yet pleasant feeling of being equals, despite his position. In hindsight I realise it was because His Holiness behaved with such unfeigned kindness and lack of vanity."
Many images in the book feature the Dalai Lama performing innocuous chores such as repairing gadgets and tools around the house or gardening in his home - tasks that he always did himself, Rai says.
"In a lot of ways, he gave me everything a photographer ever wants from a subject," the photographer says.
Among the Dalai Lama's favourite places at his home is the garden, where he grows all sorts of plants.
All photographs are part of A God in Exile: The Fourteenth Dalai Lama by Raghu Rai. The book has been published by Roli Books.