Abhilash Tomy: Injured Indian sailor rescued by French vessel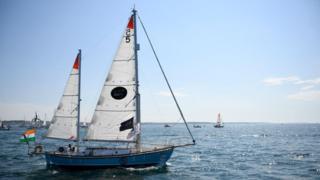 A seriously injured Indian sailor stranded in the middle of the Indian Ocean has been rescued and is safe, officials say.
Solo yachtsman Abhilash Tomy was stranded 3,200km (2,000 miles) off the coast of Western Australia after his boat was badly damaged during a storm on Friday.
He was participating in the Golden Globe round-the-world race.
Tomy sent a message to race organisers saying he had a severe back injury.
"Tomy was taken out of his yacht on a stretcher. He is conscious, and he is safe," Indian Navy spokesperson Captain DK Sharma told reporters.
Captain Philip Donde, the first Indian to circumnavigate the globe under sail who has worked closely with Tomy, told the BBC Marathi service about his "sense of relief".
"There was a bit of anxiety but I was sure he'd be rescued," he said.
"He's quite a focused and determined young man," Mr Donde said. "I was sure that he'd do his best in any situation that he has landed into."
Indian yachtswoman Taramati Matiwade also praised Tomy, telling the BBC his courage is "endless".
"Unfortunately, humans can't fight nature," she said.
Rescue teams from various nations, including India, had raced towards Tomy, but the French fishing vessel Osiris reached him first. A doctor and a stretcher are on board the vessel.
Earlier, Captain Sharma told the BBC that the plan was to transfer Tomy to an Australian naval ship which sailed from Perth to the location on Sunday morning.
Tomy was able to communicate using a texting unit, after his satellite phone was broken. He managed to send an initial message saying he has a severe back injury and was immobilised, unable to eat or drink.
On Sunday, race organisers said he sent another message, "Lugged cans of ice tea, Having that. Vomiting continuously. Chest burning".
Rescue mission to reach injured Indian sailor
Tomy's boat, the Thuriya, is a replica of Robin Knox-Johnston's Suhaili, winner of the first Golden Globe Race in 1968.
Friday's storm, which damaged the vessel, whipped up 70-knot winds and 14-metre (45ft) waves, and also knocked down the yacht of another competitor, Dutchman Mark Slats, twice.
Most of the 11 competitors still in the race were further north and avoided the worst of the storm, organisers said.
The Golden Globe race involves a single-handed circumnavigation of the globe - a distance of 30,000 miles - without using modern technology, except for satellite communications.
Competitors started from France on 1 July; seven boats have so far withdrawn from the race.