S-400: India missile defence purchase in US-Russia crosshairs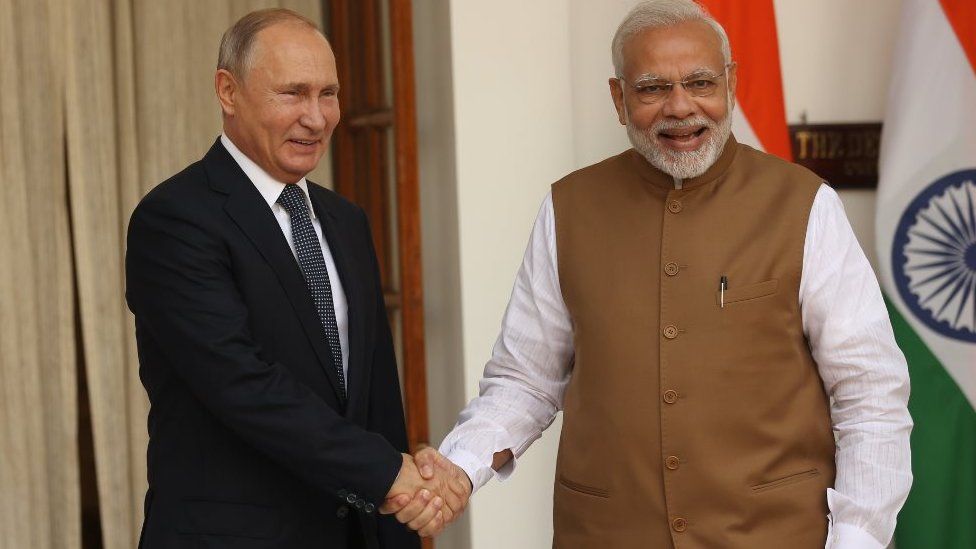 India has signed a deal with Russia to acquire the S-400 air defence missile system, despite the possibility such a move could trigger US sanctions.
Indian Prime Minister Narendra Modi and Russian President Vladimir Putin announced the $5bn (£3.8bn) deal in Delhi on Friday.
The S-400 is one of the most sophisticated surface-to-air defence systems in the world. It has a range of 400km (248 miles) and can shoot down up to 80 targets simultaneously, aiming two missiles at each one.
India's neighbour China also has the same system - the two countries fought a war in 1962 and routinely see skirmishes on their border. So for India it was imperative to boost its defence capabilities - especially in view of a possible two-front conflict, with Pakistan and China.
Rajiv Nayan, defence expert at the Institute for Defence Studies and Analyses think-tank, believes India had to take "a calculated risk".
"India needs to look after its strategic interests. An air defence missile defence system was the need of the hour. The US has said that going ahead with the deal would attract sanctions - but Delhi cannot be seen coming under pressure," he told the BBC.
Relations between the US and Russia have been strained since Moscow annexed Crimea from Ukraine in 2014. Russia's alleged meddling in the 2016 American presidential elections has further fuelled tensions.
It also prohibits any country from signing defence deals with these nations.
But US President Donald Trump has the power to provide waivers to some countries. India was hoping to secure one, but recent statements from some Trump administration officials have sent mixed signals.
"I can't sit here and tell you that they [India] would be exempt, that we would use that waiver - that will be the decision of the president if he is faced with a major new platform and capability that India has acquired from Russia," Randall Schriver, assistant secretary of defence for Asian and Pacific security affairs, recently said.
Defence Secretary Jim Mattis and Secretary of State Mike Pompeo also failed to mention the waiver during their visit to Delhi in September.
The new surface-to-air defence system will enable the air force to detect and destroy missiles. Mr Nayan says India already operates defence systems "manufactured by Russia and it make sense to continue with the systems we are familiar with".
Delhi's decision to go ahead with the deal also signals an attempt to inject a greater degree of balance in its foreign policy, according to Pratyush Rao, associate director for India and South Asia at Control Risks consultancy.
"After investing significant political capital in strengthening US-India ties during Barack Obama's presidency, Mr Modi is now seeking to calibrate relations with the US under the Trump administration.
"Given the high degree of unpredictability associated with the Trump administration, Delhi needed to hedge its bets," he said.
How the S-400 system works
Long-range surveillance radar tracks objects and relays information to command vehicle, which assesses potential targets
Target is identified and command vehicle orders missile launch
Launch data are sent to the best placed launch vehicle and it releases surface-to-air missiles
Engagement radar helps guide missiles towards target
Mr Trump recently described India as "tariff king" and said it wanted to have a trade deal with the US to keep him happy. The statement hasn't gone down well in Delhi's diplomatic circles.
It's not surprising that India has been trying to improve ties with powers like Russia and China in the new world order under Mr Trump.
India - which makes very few of its own weapons - is the world's biggest defence buyer, and Russia supplies most of its military equipment and spare parts.
"India had to assure Russia that it still values Moscow as an important defence and strategic partner and signing this deal was a demonstration of that," Mr Rao said.
He added that this was a "Catch-22 situation for Delhi with it having to walk the diplomatic tightrope between a trusted but waning partner [Russia] and a growing yet temperamental partner [US]".
Indian officials now hope that Washington will grant a waiver for Delhi.
Mr Nayan believes that backroom negotiations with Washington may result in such a move. But it may not be easy because the US has its own Catch-22 situation to deal with.
Nato ally Turkey is also in the process of acquiring the same system, and many believe that's a red line the US doesn't want Turkey to cross.
If the US allows India a waiver, others countries will press for similar concessions.
Meanwhile, Washington cannot afford to ignore India's increasing defence equipment requirements. It has increased its own arms exports to India more than five times in the past five years, taking its share in Delhi's defence procurement to 15%.
"Having painstakingly built up the defence partnership, Washington would want to insulate it's burgeoning defence trade with India through some kind of a solution," Mr Rao says.
Mr Modi's administration is also likely to try to defuse tensions. He will seek re-election next year and will not want a new controversy that could affect his campaign.
"If the US imposes sanctions on India, it will give more ammunition to India's opposition parties ahead of the elections. It will open Mr Modi to further attacks over his management of foreign policy coming days after perceived flip-flops on holding talks with Pakistan," Mr Rao added
He signed a government-to-government deal with France in 2016 to buy 36 Rafale warplanes manufactured by Dassault Aviation. Rahul Gandhi, the leader of the main opposition Congress party, has alleged that Mr Modi "favoured" an Indian company that is part of the French deal.
Mr Modi's ministers have denied the allegation, but the issue continues to dominate headlines in India.
Both Mr Modi and Mr Trump have reasons to avoid falling out. The big question now is whether Mr Trump will see it Mr Modi's way.