MJ Akbar: India minister sues #MeToo accuser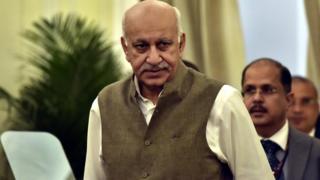 Indian minister MJ Akbar has filed a defamation case against a woman journalist who named him as part of a #MeToo movement gripping the country.
Priya Ramani's allegations against Mr Akbar inspired more women to talk about his alleged "predatory conduct".
The former newspaper editor added that he would not be stepping down from his post as deputy foreign minister.
In a statement, Ms Ramani said she was "ready" to fight the allegations against her.
She added that she was "deeply disappointed" that "rather than engage with the serious allegations that many women have made against him, he seeks to silence them through intimidation and harassment."
Apart from the case against Ms Ramani, Mr Akbar has threatened to also sue the other women who have spoken out against him.
The minister is the most high-profile figure to be named in India's #MeToo movement.
He returned from an official trip abroad on Monday and called the allegations "false" and "baseless".
A threat to India's #MeToo movement?
Ayeshea Perera, BBC News Delhi
Everyone expecting a contrite apology and possible resignation from junior Foreign Minister MJ Akbar could not have been more wrong.
His response to being named as part of India's #MeToo movement has been full of fire and fury.
The allegations against Mr Akbar will be hard to prove. Ms Ramani herself has said that "nothing happened" in her account, while the other allegations relate to events that took place many years ago, and will ultimately boil down to his word against theirs.
But what is more significant, is that Mr Akbar's response could also embolden others who have been named.
Veteran actor Alok Nath, who has been accused of rape and sexual assault by a female director, has also sued for defamation, demanding a full written apology and token compensation of one rupee. It is likely that others named may do the same.
But will this stop the momentum that has begun in the Indian media and entertainment industries?
On the one hand, it could mean that women who were feeling empowered to come forward with their own stories will now stop - and others may feel pressured into taking back their complaints for fear of legal action.
The long and arduous court processes will also make it hard for women to sustain the momentum of what they have begun.
Mr Akbar was first named last week by Ms Ramani, who retweeted an article she had written for Vogue India in 2017 titled "To the Harvey Weinsteins of the world", where she recounted what she called her first experience of workplace harassment.
Ms Ramani did not name anyone in the original piece, but said in a tweet on 8 October that the article had been about Mr Akbar.
Since then, other women have come forward with their own stories naming Mr Akbar. At least one other anonymous account is believed to be about him.
One of India's most influential editors, he has edited leading English-language newspapers such as The Telegraph and The Asian Age.
The charges against him range from "predatory behaviour" to outright sexual assault.
In a statement posted on Twitter on Sunday, Mr Akbar said that the allegations are politically motivated as the country prepares for a general election next year.
"Why has this storm risen a few months before a general election? Is there an agenda? You be the judge," he wrote.
Many journalists and women have taken to social media to support those who have accused Mr Akbar of harassment.
Comedians, journalists, authors, actors and filmmakers have been called out on social media in the past week.
Veteran actor Alok Nath, and film directors Vikas Bahl, Subhash Ghai and Sajid Khan are among the other high-profile figures to be accused of sexual assault. They have all denied the allegations.