Pulwama attack: India government must protect Kashmiris - top court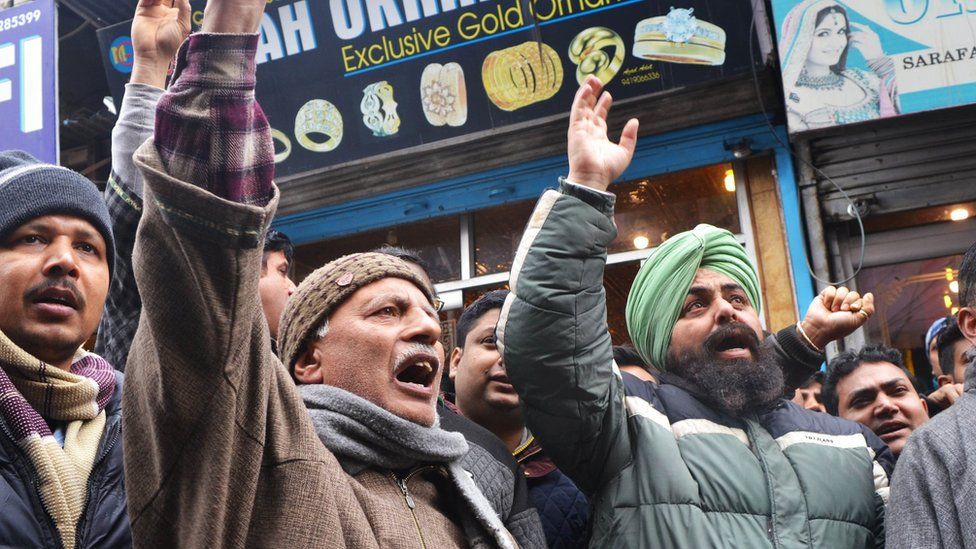 India's top court has ordered the government to protect Kashmiri people from attacks in apparent retaliation for last week's deadly bombing in Indian-administered Kashmir.
There have been several reports of Kashmiri students and businessmen being harassed or beaten up in recent days.
The Supreme Court has also sought a response from the states where these alleged incidents happened.
The attack has sparked anger and anti-Pakistan protests across India.
The suicide bombing of an Indian security convoy in Pulwama on 14 February was claimed by a Pakistan-based militant group and has led to a war of words between nuclear-armed India and Pakistan.
But in some cases the anger has been directed against Kashmiri people living in other parts of India. The attack, which killed more than 40 Indian paramilitary police, was the deadliest against Indian forces in Kashmir in decades.
Hundreds of Kashmiri students, traders and businessmen have returned to Kashmir from various Indian cities out of fear that they could face harassment or attack.
Jibran Nazir Dar, a Kashmiri journalist working for the Times of India newspaper in the western city of Pune told the BBC he had been beaten by a group of men who shouted "go back to Kashmir" on Thursday.
Police confirmed they had registered a case for the attack.
India has long had a volatile relationship with Muslim-majority Kashmir, where there has been an armed insurgency against Indian rule since the late 1980s.
The region has been a flashpoint between India and Pakistan since independence. Both countries claim all of Kashmir but control only parts of it. They have fought two wars and a limited conflict over the territory.
The court's decision singled out the federal government as well as governments in 10 states which are home to a sizeable Kashmiri population.
It asked authorities to widely publicise the details of officials who Kashmiris can contact if they face threats or violence.
The order was in response to a petition seeking protection for Kashmiris living across India. Tehseen Poonawala, one of the petitioners, told the BBC that he was moved to act because he was "disturbed" after reading reports of Kashmiris being attacked.
"It's not about Kashmiris. It's about human beings. We cannot be a country that responds with mob violence," he said.
What happened to Kashmiri students?
In the days following the attack, isolated incidents of students from Kashmir being beaten up or evicted from their accommodation in northern Indian states were reported in local media. Kashmiri Muslims were warned to stay vigilant and India's Central Reserve Police Force (CRPF) offered help to those in need, but also warned of false reports.
Two other colleges in the city issued public statements saying they would not admit Kashmiri students in the next academic year.
"We did so to provide protection to the [Kashmiri] students," the college principal, Aslam Siddidqu, told the BBC, adding that he had faced pressure from right-wing groups.
Federal education minister Prakash Javadekar has denied that "incidents" have taken place involving Kashmiri students.
But a police official in Dehradun told the BBC that 22 students had been arrested for protesting and demanding that Kashmiri students be expelled from colleges in the city.
What's the bigger picture?
The attack has raised tensions between India and Pakistan, which have fought two wars and a limited conflict in the region and are both nuclear powers.
India has accused Pakistani intelligence services of having a hand in the attack, which was claimed by militant group Jaish-e-Mohammad.
Pakistan denies this and has warned that it will retaliate if India takes military action. In his first comments addressing the attack, Prime Minister Imran Khan said India should "stop blaming Pakistan without any proof or evidence" and urged Indian authorities to share any "actionable intelligence".
India has moved to impose trade restrictions on Pakistan. It has also said it will build dams to reduce the flow of water to Pakistan from three rivers in India. Similar plans were announced in 2016, after a deadly militant attack on an Indian base in Kashmir.
Indian cricket administrators say no decision has yet been made.