India election 2019: Poll official 'killed by Maoists'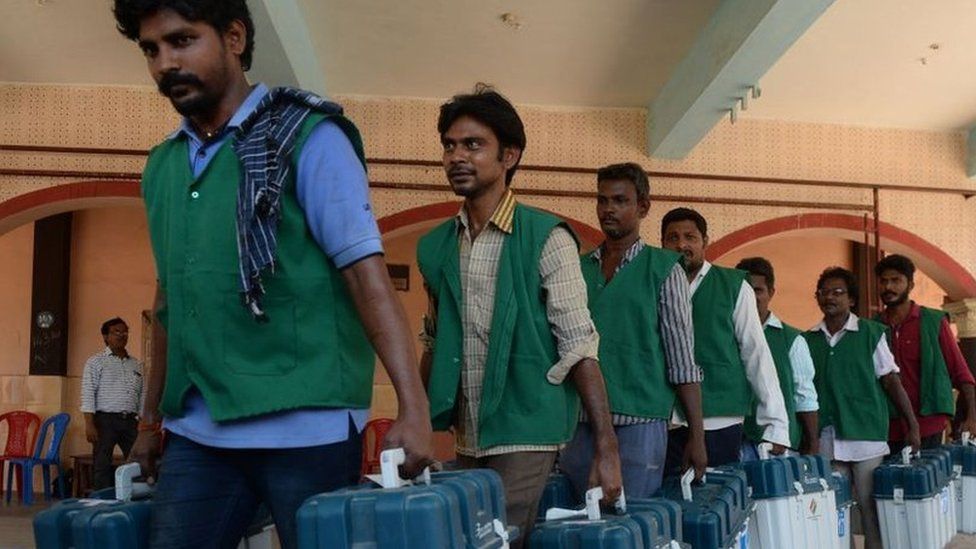 A poll official was killed in the eastern Indian state of Orissa on Thursday, hours ahead of the second stage voting in the general election.
Sanjukta Digal was on her way to a polling booth when her vehicle was attacked by Maoists, media reports say.
Orissa is one of 13 states and union territories that are voting in this stage to elect a new parliament.
Powerful regional parties are on the ballot in 97 seats, and tens of millions are eligible to vote.
Meanwhile voting has continued without much hindrance.
The eastern state of West Bengal leads the way again with the highest voter turnout - 33.4% - so far. With a turnout of around 30%, Tamil Nadu in the south and Chhattisgarh in the east are close behind. Uttar Pradesh in the north registered the lowest turnout - 24%.
Regional parties in these states are hoping to do well because they are expected to be kingmakers in this election. They dominate politics in their states and are fronted by charismatic local politicians.
This election is widely being seen as a referendum on Prime Minister Narendra Modi, whose Hindu nationalist Bharatiya Janata Party (BJP) won a historic landslide in 2014. Mr Modi will be hoping for a repeat performance.
The election is taking place over seven stages, with votes being counted on 23 May. There are 900 million eligible voters, making this the biggest election the world has ever seen.
What has happened so far?
Maoists reportedly set off an explosive device in Kandhamal targeting Ms Digal's vehicle early on Thursday. She survived the blast, but was shot dead. Other officials who had been travelling with her escaped.
Elsewhere in Kandhamal, Maoists set fire to a motor bike and two cars carrying election material, but no-one was hurt.
Elsewhere in Kandhamal, Maoists set fire to a motor bike and two cars carrying election material, but no-one was hurt.
India's Election Commission employs around five million workers to carry out the mammoth task of organising polling across the country - and this includes manning booths in sensitive areas where Maoists have long been active and carry out regular attacks.
Polling has otherwise gone smoothly. For the first time, 159 patients at the Institute of Mental health in Chennai city also voted.
As a law, everybody has the right to vote... people shouldn't be neglected just because they are inside this building," Dr Poorna Chandrika told BBC Tamil's Muralidharan Viswanathan.
She said hospital administrators first spoke with patients to identify those who recognised and distinguished between party logos and candidates, and understood voting procedures. And then 104 men and 55 women voted in polling booths that were set up in the hospital premises.
Some 15 million voters between the ages of 18 and 19 are newly eligible to vote in this election.
"It's a feeling that I cannot really describe. I'm feeling very happy that I was able to vote," Sania Sultana told BBC's Zubair Ahmed after voting for the first time.
Pooja Mahalingappa, another first-time voter said, " I was excited to vote for the first time. I voted for my country's progress."
Officials in some booths went all out to deck the place up and welcome voters.
The BBC is not responsible for the content of external sites.
Skip twitter post by ANI
Allow Twitter content?
This article contains content provided by Twitter. We ask for your permission before anything is loaded, as they may be using cookies and other technologies. You may want to read Twitter's cookie policy, external and privacy policy, external before accepting. To view this content choose 'accept and continue'.
The BBC is not responsible for the content of external sites.
End of twitter post by ANI
And, of course, the finger is back! Every election there are a flood of images featuring smiling voters holding up their fingers.
This is because once you've cast your vote, an election official marks your index finger with indelible ink - proof that you've fulfilled your duties as a responsible citizen.
And in recent years many social media campaigns have urged people to take "voter selfies", all showing them proudly displaying their inked fingers.
The BBC is not responsible for the content of external sites.
Skip twitter post 2 by ANI
Allow Twitter content?
This article contains content provided by Twitter. We ask for your permission before anything is loaded, as they may be using cookies and other technologies. You may want to read Twitter's cookie policy, external and privacy policy, external before accepting. To view this content choose 'accept and continue'.
The BBC is not responsible for the content of external sites.
End of twitter post 2 by ANI
Where are the big regional parties?
The state of Tamil Nadu in particular will be closely watched as all but one of its 39 parliamentary seats go to polls on the same day. Polling in the Vellore constituency was cancelled after the election commission said it had found credible evidence of voter bribery.
The contest here is expected to be between the Dravida Munnetra Kazhagam (DMK) and the All India Anna Dravida Munnetra Kazhagam (AIADMK) - regional parties that have dominated politics in the state for decades.
In 2014 the AIADMK, led by former chief minister Jayalalitha, swept the state - winning 37 seats. Her death in 2016, followed by the death of her regional rival M Karunanidhi, has left a vacuum in the state. Despite that, voters are still likely to choose one of these two parties.
In the bellwether state of Uttar Pradesh (UP), which sends 80 MPs to parliament, there will be 15 seats up for grabs.
In 2014, UP played a large role in Mr Modi's landslide win - of the 282 seats the BJP won, 71 were from UP.
But this time, the party could face a tough fight. The two main regional parties - historic rivals who have both run the state - have banded together in a "grand alliance" to defeat Mr Modi.
In West Bengal, which will only see voting in two constituencies on Thursday, the state's chief minister Mamata Banerjee is hoping for a repeat of her strong 2014 performance. Her party, the Trinamool Congress (TMC), won 36 of the state's 40 seats in the last general election.
This time she is being challenged by Mr Modi's BJP, which is trying to make inroads here - the party picked up 17% of the popular vote in 2014, and won two seats.
The other states going to polls on Thursday are Assam, Bihar, Chhattisgarh, Jammu and Kashmir, Karnataka, Maharashtra, Manipur, Orissa, Puducherry, and Tripura.
How big is this election?
It is mind-bogglingly vast - about 900 million people above the age of 18 will be eligible to cast their ballots at one million polling stations. At the last election, voter turnout was about 66%.
No voter is meant to have to travel more than 2km (1.2 miles) to reach a polling station. Because of the enormous number of election officials and security personnel involved, voting is taking place in seven stages between 11 April and 19 May.
Hundreds of millions of Indians have escaped poverty since the turn of the millennium, but huge challenges remain.
Under Mr Modi, the world's sixth-largest economy appears to have lost some of its momentum. Although annual GDP growth has hovered at about 7%, unemployment is a major concern.
Many say Mr Modi and the BJP have polarised India in the last five years.
What Indian voters are being promised
Income from farming has also stagnated because of a crop glut and declining commodity prices, which have left farmers saddled with debt.
Unsurprisingly, both parties have targeted the rural poor in their campaign manifestos. The BJP has promised a slew of welfare schemes for India's farmers, while the opposition Congress party has promised a minimum income scheme for the country's 50 million poorest families.
National security is also in the spotlight this election after a suicide attack by a Pakistan-based militant group killed at least 40 paramilitary police in Indian-administered Kashmir in February. India then carried out unprecedented air strikes in Pakistan.
Since then, the BJP has made national security a key plank in its campaign.