India PM Modi thanks Varanasi voters for massive mandate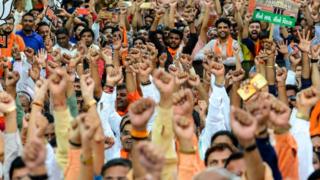 Indian Prime Minister Narendra Modi has thanked voters in the northern city of Varanasi for giving him a thumping mandate.
"Varanasi has given me so much love and strength. It's down to my luck that I contested here," he told his supporters in the city on Monday.
Massive crowds greeted him and waved at him as his convoy drove through the city.
Mr Modi retained his seat by a margin of nearly half a million votes.
An alliance led by Mr Modi's Bharatiya Janata Party (BJP) swept the general election, winning 354 seats in the 545-member lower house or Lok Sabha.
In Varanasi, Mr Modi was received by Ram Naik, the governor of Uttar Pradesh, the state where Varanasi is located. He prayed at the city's historic Kashi Vishwanath temple before delivering a speech.
He had special words of praise for BJP workers.
"For the country, I am prime minister. But for you, I am an ordinary party worker," he told them.
He dismissed the predictions of analysts who had said the BJP would lose seats: "They [political pundits] don't want to change. They are fit for 20th Century but not for the 21st Century. Some of the pundits may have biodata running into 50 pages and PhDs, but a common party worker on the ground knew better."
BBC Hindi's Nitin Srivastava, who is in Varanasi, said residents of the city were "out in full force" despite the heavy security deployed there.
"Traditional musicians and folk artistes have also been deployed along the streets of Varanasi for a grand welcome," our correspondent adds.
"We have given him the mandate and now expect him to take Varanasi in the list of top five cities of the world," Ram Kumar, a sweetshop owner, told him.
Mr Modi, who had won a massive mandate in 2014 from the constituency, saw his victory margin increase by more than 100,000 votes this time.
The verdict saw massive celebrations in the streets of the city on Thursday, when the results were announced.
Uttar Pradesh, which sends 80 MPs to parliament, also saw the BJP win 62 seats in the state.