Kashmir leaders under house arrest as unrest grows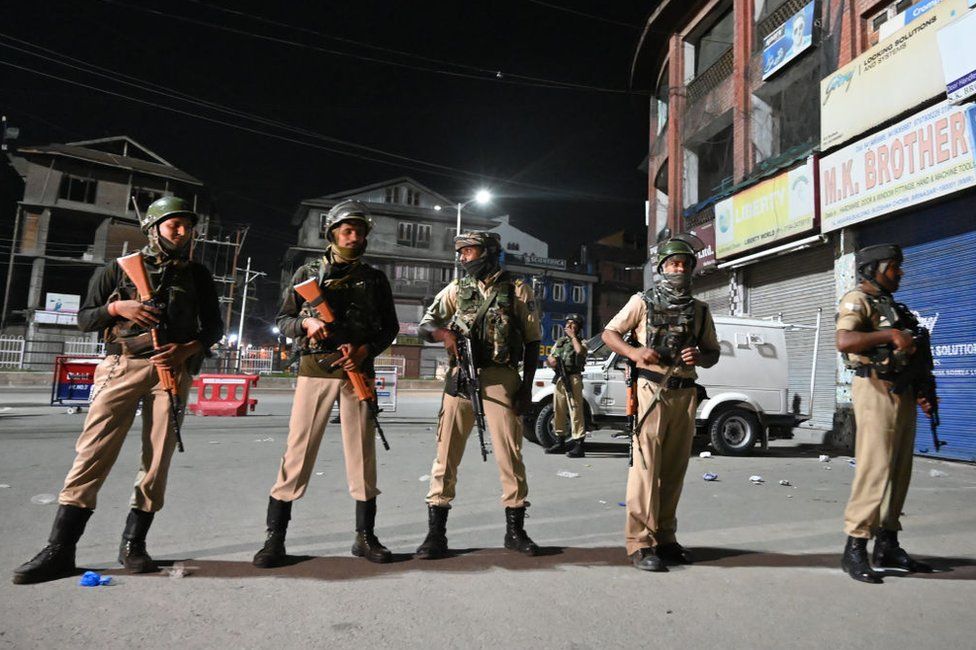 Top politicians in Indian-administered Kashmir have been put under house arrest, days after thousands of troops were deployed to the disputed region.
Public meetings have been banned and reports say mobile networks and the internet have been restricted.
Last week authorities also ordered tourists and Hindu pilgrims to leave, citing a "terror threat" against an annual pilgrimage to a major shrine.
It is unclear what is behind the latest moves, which have stoked tensions.
No explanation for the government's actions has been given as yet but it comes amid speculation that Delhi might be poised to revoke some of Kashmir's special privileges - specifically Article 35A, a constitutional provision, which among other things, prevents people from outside the state buying land there.
A cabinet meeting to discuss the situation has ended and home minister Amit Shah will address parliament.
Kashmir has been under governor's rule since June 2018 when the governing Bharatiya Janata Party (BJP) pulled out of a state government coalition with the regional People's Democratic Party (PDP).
It was in the early hours of Monday that two former chief ministers of Indian-administered Kashmir, Omar Abdullah and Mehbooba Mufti, were placed under house arrest.
The two leaders tweeted late on Sunday night about their impending house arrests and the situation there.
The BBC is not responsible for the content of external sites.
Skip twitter post by Omar Abdullah
Allow Twitter content?
This article contains content provided by Twitter. We ask for your permission before anything is loaded, as they may be using cookies and other technologies. You may want to read Twitter's cookie policy, external and privacy policy, external before accepting. To view this content choose 'accept and continue'.
The BBC is not responsible for the content of external sites.
End of twitter post by Omar Abdullah
The BBC is not responsible for the content of external sites.
Why have additional troops been deployed?
The federal government has not made an official statement. But they have cited security concerns while deploying tens of thousands of troops to the Muslim-majority valley in the past week.
The influx of troops, the terror warnings and the speculation about Kashmir's status have alarmed residents across the Indian-ruled region, many of whom queued for hours outside petrol stations, supermarkets and cash machines.
If Article 35A is indeed revoked, it would spark anger across the valley, and escalate tensions with Pakistan.
There have also been reports of skirmishes across the de facto border with Pakistan in recent days. Kashmir has been a flashpoint between the nuclear-armed neighbours for decades. Both countries claim the entire valley, but control only parts of it. They have fought two wars and a limited conflict in the region.
India accuses Pakistan of backing militant groups based in Kashmir, which Pakistan denies.
Article 35A is a part of Article 370, which allows the state its own constitution, a separate flag and independence over all matters except foreign affairs, defence and communications. This provision guarantees Kashmir a unique status within India.
Article 35A itself allows the legislature of Indian-administered Kashmir to define who the state's "permanent residents" are, and what distinguishes them. It applies to all of Indian-administered Kashmir, including Jammu and Ladakh.
All identified residents are issued a permanent resident certificate, which entitles them to special benefits related to employment, as well as scholarships and other privileges. But the biggest advantage for permanent residents is that only they have the right to own and, therefore, buy, property in the state.
But Article 35A was introduced by a presidential order in 1954, without seeking the consent of parliament.
Some constitutional experts believe this means it can be revoked in the same manner - through a presidential order - while others say such a move could still be challenged in court since it would be unprecedented.
Why is Kashmir's special status significant?
Article 35A is a sensitive law because its restrictions on who can buy or own property protect the state's distinct demographic character. Many Kashmiris have long suspected Hindu nationalist groups are encouraging Hindus to migrate to the state. They see revoking Article 35A as further proof of this.
But the ruling BJP has long vowed to revoke the law. Its 2019 election manifesto said it was "discriminatory against non-permanent residents and women of Kashmir", adding: "We believe that Article 35A is an obstacle in the development of the state."
India has been fighting an armed insurgency in Kashmir since 1989. High unemployment and allegations of human rights abuses by Indian security forces have aggravated the problem.
Kashmir's special status, experts say, is especially significant given this fraught relationship. Any attempt to dilute the status is seen by many as a violation of Kashmir's autonomy.
Earlier, the detained politicians and other leaders issued a resolution warning Delhi of "consequences" if it "changed the special status of Kashmir".
The BJP has a decisive majority - it won 300 of the 543 seats in the lower house of parliament earlier this year. This will likely help the government weather the political storm that is likely to follow, as revoking the law is expected to lead to constitutional and legal challenges.