Sujith Wilson: Indian toddler stuck in borewell dies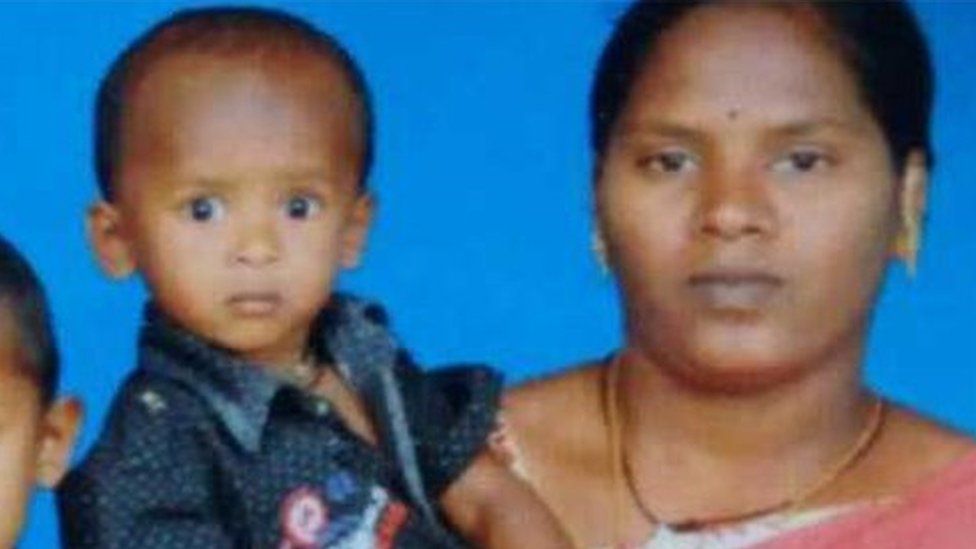 A two-year-old boy, who had fallen down a well in southern India on Friday, has been found dead.
Sujith had fallen into the abandoned borewell while playing with friends.
He had initially been stuck at about 10m (30ft) but then fell further into the 180m-deep abandoned well.
Officials said "special equipment" was used to retrieve the body from the well, and a team of doctors "took around 45 minutes to confirm his death and give a special report".
"We found his body to be highly decomposed," Tamil Nadu official J Radhakrishnan told reporters on Tuesday.
The body was sent to a government hospital for autopsy and then handed over to his parents, who buried him later in the morning.
A borewell is a narrow shaft drilled into the ground to extract water. Heavy machinery had been used to try to dig a second hole parallel to the one the child fell into.
Efforts to rescue the boy involved German-made drilling machines, firefighters, rescue workers and oxygen supplies but they were slowed down by the rocky soil and rain.
India was celebrating its Diwali holiday over the long weekend and the rescue operation gathered widespread social media attention.
Prayers were held in temples, mosques and churches across Tamil Nadu for his safe return and Indian Prime Minister Narendra Modi had also tweeted his concern for the toddler.
The main opposition Congress party leader Rahul Gandhi voiced his condolences after news of the boy's death was announced.
I'm sorry to hear about the passing of baby Sujith. My condolences to his grieving parents and his family.

#RIPSujith

— Rahul Gandhi (@RahulGandhi) October 29, 2019
#RIPSujith - A devastating loss to the parents. The whole country mourns for the little kid.

— Rajasekar (@sekartweets) October 29, 2019
Attention also focused on official policy, with many saying authorities should ensure that borewells are not left open, and the government should have more effective protocols for such rescue operations.
Sad to know the kid #Sujith is no more.. May his soul RIP!

As a mark of respect to the kid, let us and the Govt make sure all the open/unused deep bore-wells are closed on a priority basis all over the country!#RIPSujith

— Ramesh Bala (@rameshlaus) October 29, 2019
If a device cannot be invented to rescue kids who fall into deep bore-wells, at-least the Govt can come up with a Standard Operating Procedure for rescue

So that, we follow the right procedure from the minute we come to kw

Trying different things only wastes time.. #RIPSujith

— Ramesh Bala (@rameshlaus) October 29, 2019
In June this year, a toddler who was stuck in a similar well died in the state of Punjab despite a two-day rescue operation to retrieve the boy.
There have been fresh calls for fines for those who leave abandoned wells open.