India cold wave: Delhi reels from coldest day in more than a century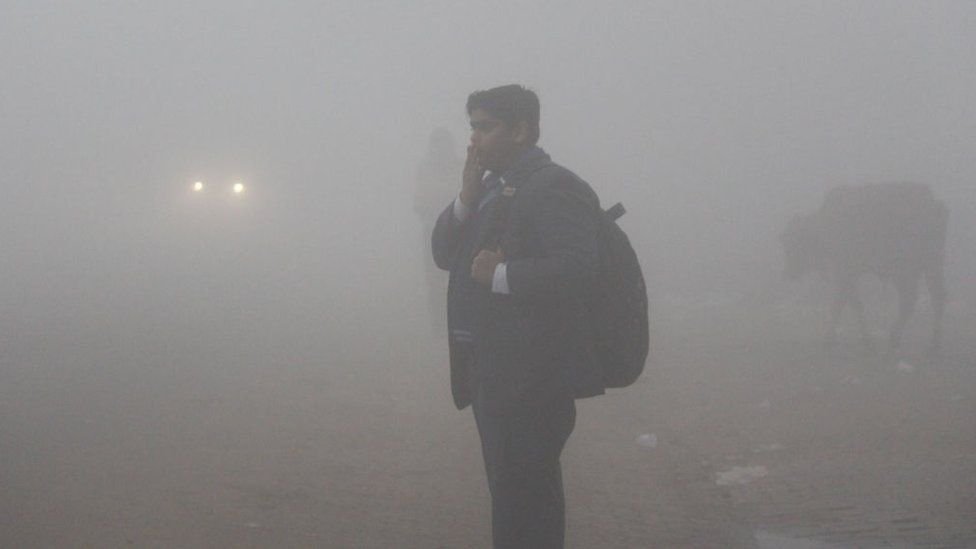 India's capital Delhi has recorded its chilliest day in more than a century amid a severe cold wave across the northern part of the country.
Thick fog blanketed the city on Monday as the maximum day temperature dropped to 9.4C, and pollution levels peaked.
It was the coldest day in Delhi since records began in 1901. The previous low was 9.8C on 2 January 2013, according to meteorological officials.
Maximum day temperatures in large parts of the north dipped 10C below normal.
Delhi's nearly 200 night shelters have been filling up as the city's homeless seek refuge from the biting cold - the minimum temperature has remained between 1C and 3C over the past few days.
Unlike in European and US cities, where most buildings are equipped with central heating, homes in some of India's coldest cities are not built for chilly winters.
Demand for space heaters goes up ahead of the winter months, when retailers begin to offer discounts.
But the millions of poorer Indians who cannot afford them end up relying on old-fashioned methods for keeping warm at home - such as hot water bottles and thick blankets.
Heavy winter jackets are also a rare sight in India, where people are more likely to step out huddled under a thick sweater and a shawl.
The cold weather has also thrown holiday plans into chaos as 30 trains and more than 450 flights to and from Delhi were delayed on Monday due to low visibility. Several flights were also cancelled.
Poor visibility also affected road traffic in the city.
The city's air quality, which is typically poor in the winter, breached the severe category as the air quality index (AQI) crossed the 450 mark.
Living in Delhi is a bit like falling in love: It's so cold you can't feel your body, the fog makes you blind. And the pollution, it leaves you breathless 😂🤣😣 pic.twitter.com/F4YGYlEQwl

— amrita madhukalya (@visually_kei) December 30, 2019
Weather officials predicted the cold spell would continue in Delhi through Tuesday but with "reduced intensity".
The cold wave has also hit large parts of the northern states of Uttar Pradesh, Haryana and Punjab, where many places saw the maximum day temperatures fall below 10C on Monday.