JNU: Students across India protest against campus attack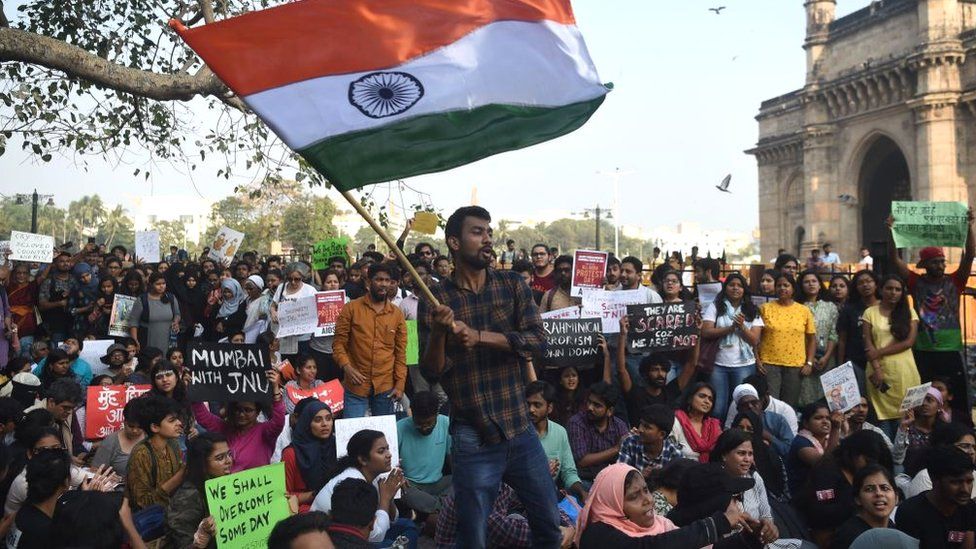 Students across India have been protesting against an attack on a prestigious Delhi university by masked men wielding sticks on Sunday.
At least 40 students and staff of the Jawaharlal Nehru University (JNU) were admitted to hospital with injuries.
Videos of the violence quickly spread via WhatsApp and were then broadcast on television, sparking shock and outrage.
Protests are taking place in the cities of Chandigarh, Bangalore, Mumbai and Hyderabad as well as the capital Delhi.
The JNU has long been associated with left-wing activism, and some students have blamed Sunday's violence on a right-wing student body linked to India's governing Bharatiya Janata Party (BJP). That group denies involvement and says left-wing activists were responsible.
Police say they have identified some of the assailants. However, many protesters accused police of being slow to respond to the attack.
The violence has been condemned across the board, including by Finance Minister Nirmala Sitharaman and Foreign Minister S Jaishankar.
At about 19:00 local time (13:30 GMT), a group including masked men and at least one woman began attacking students at JNU. Eyewitnesses say the assailants were armed with stones, sticks and iron rods.
"These were big stones that could have broken our skulls," Prof Atul Sood told India's NDTV channel. "I fell on the side and when I got up, I saw cars completely vandalised."
One video showed the student union president bleeding from a head wound.
Prof Sood said about 50 teachers and 200 students opposed to a hike in hostel fees had been holding a meeting on the campus when the attack began.
Some criticised the response from police and emergency services. Economics lecturer Amit Thorat told Reuters news agency it took an hour from his first call for anyone to arrive.
The news agency also spoke to almost a dozen eyewitnesses who alleged police watched but did not intervene.
What do we know about the attack?
Exactly who was behind the attack, and why it was carried out, is still unclear.
The students at the meeting, who have been protesting against a rise in hostel fees for the past few months, blamed it on the Akhil Bharatiya Vidyarthi Parishad (ABVP), a right-wing student body linked to the BJP party.
But ABVP leader Durgesh Kumar said its members were the victims and some of them had been injured.
"These goons are roaming around the campus fearlessly with batons and weapons and wearing masks," he told BBC Hindi. "They are beating up the students of ABVP [and] acting innocent".
The university blamed the attack on a "group of students" opposing an ongoing admission process to register new students. It is widely believed that the statement referred to leftist students who have been protesting against the fee hike.
What are students saying?
It did not take long for students and activists across the country to mobilise. On Monday, about 1,000 people gathered in Mumbai, with demonstrations in Hyderabad, Chennai (formerly Madras), and Ahmedabad, among others.
Mallige Sirimane, a protester in the southern city of Bangalore, told the BBC: "JNU has been the inspiration for many struggles across the country. This is not only because it is an exemplary university, but also because of the spirit of struggle that it has even though its students have faced many atrocities."
At Panjab University in the northern city of Chandigarh, students accused the authorities of not acting swiftly enough.
"JNU has seen protests against the hostel fee hike for months now," Kanupriya, a protester in Chandigarh, told the BBC. "Those protesters were detained many times and even sent to jail. But now the police is just silent about this incident - this shows us who is responsible."
Sunday's incident comes at a time of heightened tensions. In recent weeks protests have been held in several universities and cities over the controversial Citizenship Amendment Act (CAA).
Some believe the two issues - the hostel protest and the CAA - have become linked.
"It is obviously in relation with CAA," one protester told the BBC. "When all these educated people are coming out against the government, they want to kill those voices."