Balrampur: Anger grows after new India 'gang rape' death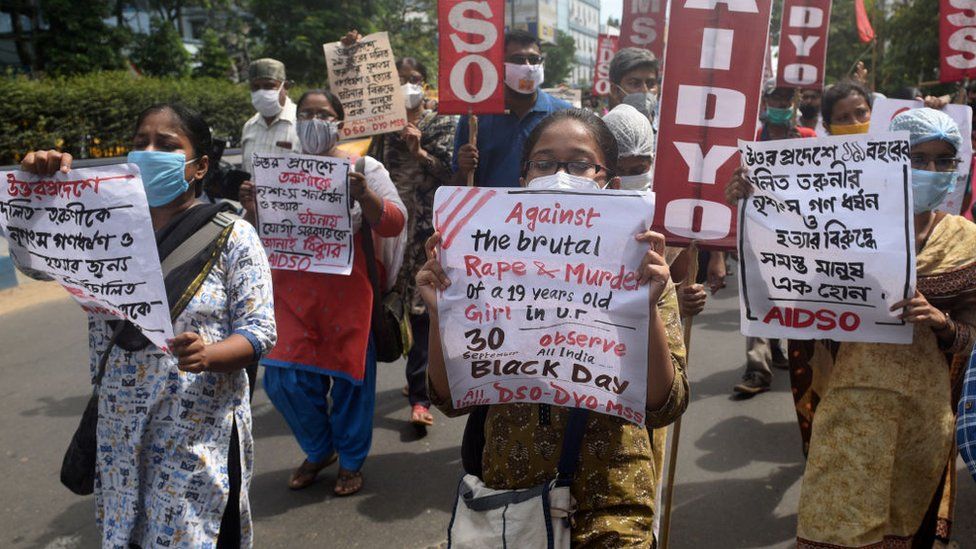 The death of a second Dalit woman in a few days after an alleged gang rape has shocked and angered India.
The 22-year-old was dragged into a vehicle after going to apply for admission at a local school and raped, her mother told the BBC.
The news follows the death of another Dalit woman, 19, on Tuesday after an alleged gang rape by upper-caste men.
Dalits are at the bottom of the caste system. Despite laws to protect them, they face widespread discrimination.
Both attacks took place in the northern state of Uttar Pradesh. News of the first sparked protests in the streets in the state.
Police have registered complaints of rape and murder and arrested two men in connection with the latest case, which took place in Balrampur district.
The earlier attack happened some 500km (310 miles) away in Hathras district. The victim was grievously injured and died in a Delhi hospital on Tuesday after fighting for her life for two weeks.
Police said on Thursday that according to a forensic report the first victim was not raped. But a Delhi hospital recorded on admission that she was both raped and strangled on 14 September. The woman's family also said she had been raped - her mother telling media that she found her daughter naked, bleeding and seriously injured in a field.
The second victim also died on Tuesday but national media picked up the news on Thursday, after a heavy backlash on social media over sexual assault and caste violence in India.
Dalits, formerly known as untouchables, have suffered public shaming and attacks for generations at the hands of upper-caste Hindus.
What do we know about the latest incident?
The victim's mother told the BBC that the family started to panic when she did not arrive home at her usual time on Tuesday evening. She said her daughter had gone to a nearby school to apply for admission on Tuesday morning. When she was returning home, a group of three or four men stopped her and forced her into their vehicle.
The mother alleges that they drugged her before raping her. "They broke my daughter's leg, they broke her waist," she said, adding that the men put her in a rickshaw after and sent her home.
"When she arrived, she looked very weak. Our daughter couldn't speak or get up. When we asked her what had happened, she couldn't answer," she added.
Ten minutes later, the victim complained of a "burning sensation" in her stomach, prompting the family to rush her to a local hospital.
"But since her condition was very serious, the doctor asked us to take her to a larger hospital in the city - but she died on the way there," the mother added.
"While officials are not confirming whether the victim was raped, they have also not denied the family's allegation," local journalist Saurabh Mishra said.
What reaction has there been?
The news has spurred furious reactions on social media. The state's former chief minister, who sits in opposition now, hit out at the ruling Bharatiya Janata Party (BJP) government.
"After Hathras, another daughter has been gang raped and brutalised in Balrampur," Akhilesh Yadav tweeted, adding that the government should act quickly in this incident.
On Twitter, the case has been among the top discussion trends with thousands of tweets from political leaders and Indians decrying the attack.
The previous incident also continued to dominate social media and news. Officials imposed Section 144 in the district, which means no more than four people will be able to gather - a measure often used to contain protests.
On Thursday, Priyanka and Rahul Gandhi, leaders of the opposition Congress Party, walked into Hathras to meet the victim's family after the leaders' vehicle was stopped by officials. Video footage on social media showed Mr Gandhi falling down in the ruckus which ensued as Congress party workers walked alongside the Gandhis, even as police officials try to stop them.
The two leaders were later seen being taken away in vehicles by police.
Startling pictures and video footage have also emerged showing of hundreds of workers from the Samajwadi Party, which sits in opposition in the state, being rounded up and detained by police in the area.
A senior district administration official, however, denied the allegation, saying the family's consent had been obtained.
Rape and sexual violence have been under the spotlight in India since the 2012 gang rape and murder of a woman in Delhi, which led to huge protests and changes to the country's rape laws.
But there has been no sign of crimes against women and girls abating.