Baba ka dhaba: Teary video brings Delhi crowds to struggling food stall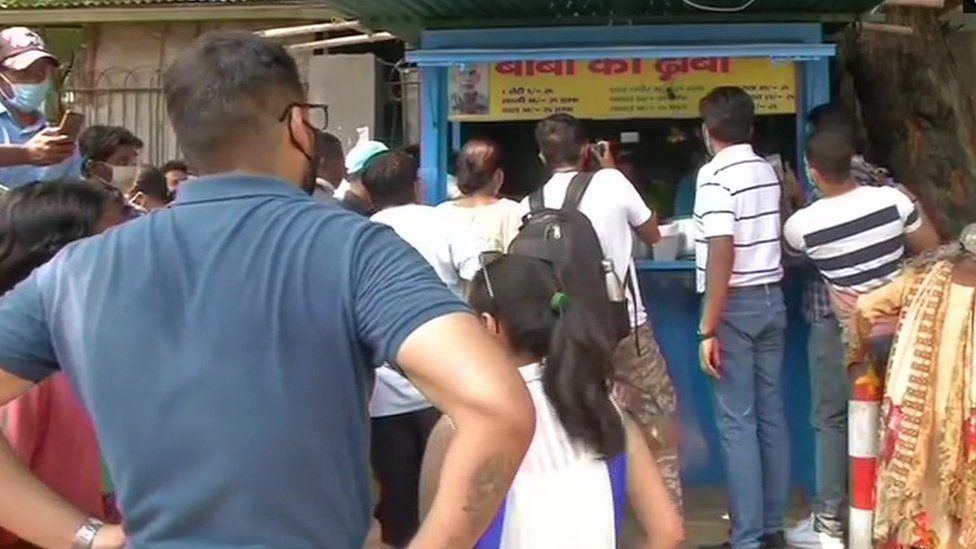 A viral tweet has changed the fortunes of a struggling food stall in India's capital Delhi, even earning it a spot on the food delivery app, Zomato.
Customers have been flocking to the spot, touched by a video of the stall's 80-year-old owner crying over the lack of business during the pandemic.
And owners Kanta Prasad and his wife, Badami Devi, are now local celebrities.
Street food is hugely popular in India, but the pandemic has hit vendors hard, forcing many to shut shop.
The couple have been running their shop, Baba ka dhaba, since 1990 in south Delhi's Malviya Nagar. They serve fresh, home-cooked meals - the menu typically includes parathas, a round, buttered bread popular northern India, a gravy of some kind, rice and dal, a thick soup of lentils. A meal sells for less than 50 rupees (about $0.70; £0.50).
They managed to make ends meet all these years, but the pandemic was devastating, Mr Prasad told a food blogger in a recent interview.
He is seen crying in the video as he talks about his struggles. Mr Prasad shows the dishes they have prepared for the day. When he is asked how much he has earned so far, he shows a few 10-rupee notes and breaks down.
The blogger, Gaurav Wasan, shared the clip on Instagram on Wednesday. It travelled quickly, soon making its way on to Twitter. A woman shared it saying it "completely broke her heart" and urged people in Delhi to visit Baba ka dhaba and help Mr Prasad and his wife.
It was just a matter of time before the tweet was noticed by celebrities - from Bollywood stars to cricketers - and ordinary people alike. The video has been watched over four million times.
By the end of Thursday, Zomato had tweeted saying Baba ka dhaba was now listed on their app - the service even urged people to let them know of any other struggling food stalls so they could help.
In the video, Mr Prasad says he and his wife start preparing the menu at 6.30am every morning and finish by 9.30am.
The first lot of customers are usually informal workers or office-goers looking for a hearty breakfast. But the pandemic, which cost people their jobs or forced them to stay at home, has shrunk business.
Mrs Prasad says that at times they take the unsold food back home, and on some days, they don't have money to cook a meal for themselves.
But ever since the video went viral, the stall has seen a steady flow of customers, some of whom are eager to squeeze in a selfie with the now-famous spot.
TV crews have been showing up as the stall and its owners continue to grab headlines. Bollywood actress Sonam Kapoor and cricketer R Ashwin are among those who have offered to help.
Mr Wasan told ANI that he had come across Baba ka dhaba by chance. "They told me that were making losses every day. So I made a video at the spot and shared it with my followers."
He adds that he has collected around $2,700 in donations to repair the stall and the couple's house.
The Prasads are both touched and elated.
"It is all because of Gaurav that the customers have lined up today," Mr Prasad told ANI news agency. "Yesterday there was almost no sales. Today I feel that the whole country is with us."