Covid 19 and pollution: 'Delhi staring at coronavirus disaster'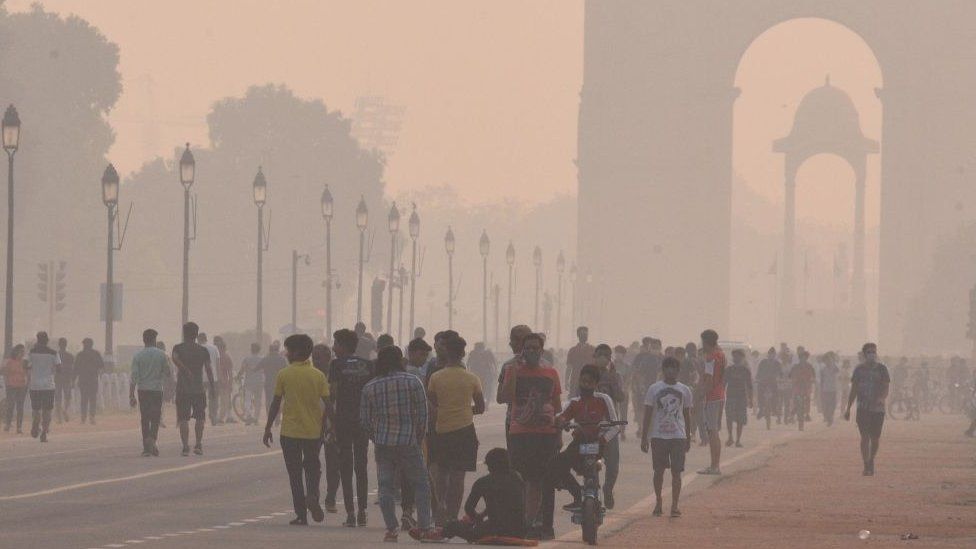 India's dreaded pollution season has returned as air quality in the capital Delhi and other northern cities rapidly deteriorated in the last two weeks.
This is bad news for India's fight against coronavirus because several studies around the world have linked air pollution to higher Covid-19 case numbers and deaths.
A Harvard University study shows that an increase of only one microgram per cubic metre in PM 2.5 - dangerous tiny pollutants in the air - is associated with an 8% increase in the Covid-19 death rate. Another study by scientists at the UK's University of Cambridge also found a link between the severity of Covid-19 infection and long-term exposure to air pollutants, including nitrogen oxides and ground-level ozone from car exhaust fumes or burning of fossil fuels.
"Such pollutants can also cause a persistent inflammatory response and increase the risk of infection by viruses that target the respiratory tract," Marco Travaglio, one of the co-authors of the study, told the BBC.
PM2.5 levels in Delhi have averaged around 180-300 micrograms per cubic metre in recent weeks - 12 times higher than the WHO's safe limits.
This is a depressing reversal. Delhi residents were able to breathe clean air for most of the year because a stringent lockdown brought industries and traffic to a grinding halt.
There have been no studies in India yet to examine the affect of air pollution on Covid-19 infection or recovery rates. But doctors and epidemiologists have long warned that toxic air will only hamper India's fight against the virus.
The country now has the world's second-highest caseload (7.5m and counting) and the third-highest death toll (more than 114,000) from the virus, although deaths per million of the population are relatively low.
But experts say worsening air quality will likely increase these numbers.
Delhi, already one of the cities worst-hit by the pandemic, will probably bear the brunt because its residents have been exposed to hazardous levels of pollution for years.
"The situation in Delhi can get really serious this winter," Dr Francesca Dominici, professor of biostatistics at Harvard University and a lead scientist of the study, told the BBC.
The air is especially bad in winters, November to February, when several factors - farmers burning crop stubble to clear the fields, vehicular and industrial pollution, festive fireworks and low wind speed - contribute to what doctors say is a "deadly cocktail of poisonous gases".
The Harvard study surveyed more than 3,000 counties across the US but the results are alarming for Delhi as well given its terrifying air pollution records - it has consistently ranked among the world's most polluted cities.
"The study arrived at the conclusion even after taking many confounding factors such as population density and socioeconomic variables into account," Dr Dominici said.
The researchers concluded that there was an urgent need to control air pollution in areas which are badly hit by Covid-19.
Yizhou Yu, who worked on the Cambridge study, said Delhi needed to be on its guard this winter.
"A spike in the severe cases can quickly overwhelm the healthcare system and it will possibly further push the mortality rate up," he said.
This is true of India as well. In Delhi, for instance, the poor live in ghettos that are closer to sources of pollution such as industrial units, construction sites and busy motorways.
Delhi Chief Minister Arvind Kejriwal has also acknowledged that there was an urgent need to keep pollution levels in check, or else the capital will end up battling two health emergencies at the same time.
"That's a terrifying scenario," says Dr DJ Christopher, head of pulmonary medicine at the prestigious Christian Medical College in Tamil Nadu.
PM2.5 particles can enter the lungs, where they cause inflammation and damage, before travelling through the bloodstream, causing severe health issues.
Studies have shown that exposure to high levels of pollution worsens the condition of patients who have diabetes, hypertension, coronary disease and asthma. And it also weakens the immune system of healthy people.
"The lung is the gateway to the body and any damage to the organ can cause severe problems. And that makes people more susceptible to Covid-19," Dr Christopher said. "It's akin to fighting a war with weakened front-line soldiers."
Experts say the pollutants could also aid the spread of coronavirus.
"In addition to air pollution decreasing immune defences, it is thought that particulate and nitrogen dioxide found in air pollution can act as vectors for the spread and survival of airborne particles such as Covid [virus]," Ms Prunicki said.
"One study of mice found that nitrogen dioxide increases the number of receptors to which the virus binds 100 fold."
Doctors for Clean Air, a public health initiative that includes Dr Christopher, has warned that deadly air during the pandemic is a "combination we must try to avoid".
A government report has predicted that Delhi is likely to report 15,000 cases per day in winter months, and pollution may increase the likelihood of more of these cases becoming severe.
The situation is "way more urgent now", Dr Christopher said. "Delhi must cut pollution to avoid a Covid disaster and overwhelming health care systems in winter."
"The government, particularly in Delhi, needs to take immediate steps to reduce air pollution. We are looking at a very dark winter otherwise."
What do I need to know about the coronavirus?