Covid-19: How a 'warm vaccine' could help India tackle coronavirus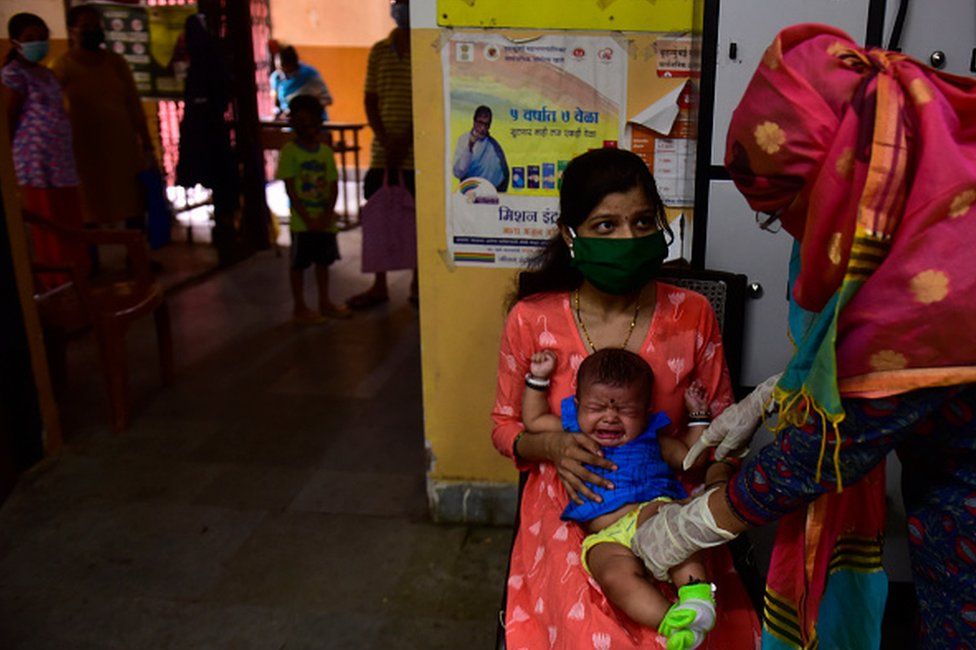 In India's boiling summers, temperatures can easily rise to 50C (122F).
Nearly all vaccines need to be transported and distributed between 2C and 8C in what comprises the so-called cold chain. And most of the Covid-19 vaccines under development, according to the World Health Organisation (WHO), will need to be refrigerated at temperatures well below 0C, the freezing point of water.
Imagine a Covid-19 vaccine that is heat tolerant and can be transported to remote towns and villages for tens of millions of jabs without depending on the cold chain.
A group of Indian scientists are working on such a vaccine. The "warm" or a heat-stable vaccine, they claim, can be stored at 100C for 90 minutes, at 70C for about 16 hours, and at 37C for more than a month and more.
Raghavan Varadarajan, a biophysicist and professor at the Indian Institute of Science, and his team have tested this vaccine on animals. "We got good results," Prof Varadarajan told me. Now they are waiting for funding to begin safety and toxicity tests on humans. Their paper has been accepted for publication in Journal of Biological Chemistry, a peer-reviewed scientific journal, published by the American Society for Biochemistry and Molecular Biology.
"I am hopeful that after this study, newer avenues would open up with regards to having cold-chain independent vaccines," said Dr Renu Swarup, secretary of India's Department of Biotechnology.
Vaccines that can withstand high temperatures are rare.
Only three - offering protection against meningitis, human papillomavirus (HPV) and cholera - are licensed and approved by WHO for use at temperatures up to 40C. These vaccines can be deployed quickly in hard- to-reach communities, and reduce pressures on healthcare workers. They have proved to be useful during large-scale emergency responses like distributing oral cholera vaccine in Mozambique last year following Cyclone Idai, according to WHO.
"The possibility to transport vaccines outside the cold chain for the very last mile to reach the most remote populations in resource-limited settings is very helpful. It can be particularly helpful for mass vaccination campaigns when hundreds of thousands of vaccine doses need to be transported to several vaccination points within a short period of time," said Julien Potet, policy adviser (vaccines) of Médecins Sans Frontières' Access Campaign.
India expects to receive and utilise 400-500 million doses of Covid-19 vaccines and plans to inoculate some 250 million people between January and July next year. They will be mainly distributed through the country's 42-year-old immunisation programme, one of the world's largest health programmes. It targets 55 million people, mainly newborns and pregnant women, with 390 million free doses of vaccines against a dozen diseases every year.
To service this massive programme, India already has a robust network of state-owned cold storages for vaccines that can provide doses to more than eight million locations.
Storing and keeping vaccines cool requires walk in freezers, ice-lined refrigerators, refrigerated trucks, coolant packs such as dry ice and cold boxes, which help in last-mile delivery. Nearly four million doctors and nurses are involved in the immunisation campaign.
"India has largely managed vaccines and immunisation drives well," says B Thiagarajan, managing director of Blue Star, which has a major share of pharmaceutical cold chain products. "When it comes to vaccines which have to be stored at temperatures between 2 to 8C, we are well equipped. If the vaccine has to be kept at -40C, there will be a problem."
The WHO says Covid-19 vaccines under development can be categorised in three storage temperature requirements: 2-8C, -20C and -70C. A number of candidates, say experts, will require an "ultra cold chain" at temperatures which will "definitely prove a challenge to many countries."
Ensuring a consistent cold chain for a mass immunisation programme will be a big challenge.
At nearly 40 million tonnes, India's cold storage capacity is one of the world's largest, but it mainly stores fresh food, healthcare products, flowers and chemicals. Much of the capacity is not internationally hygiene compliant for storing vaccines. Vaccines can easily lose potency when exposed to higher temperatures, and have to be protected against accidental freezing during transport, as well as breaks in the cold chain due to exposure to high heat.
Even if the vaccine could be stored at 2C to 8C, the storage capacity in most cold chains has been designed to enable immunisation of mainly infants. This capacity, according to WHO, "risks being vastly insufficient as we try to rapidly vaccinate the entire population for Covid-19".
"There are significant challenges and they can be overcome," says Andrea Taylor of the US-based Duke Global Health Institute. "But without knowing if they will have access to vaccines or the number of doses or type of cold storage needed for vaccines they may get, it is difficult for countries to move aggressively to prepare".
That is where a "warm vaccine" could truly be a game changer.
What do I need to know about the coronavirus?