India coronavirus: Delhi to gradually come out of Covid lockdown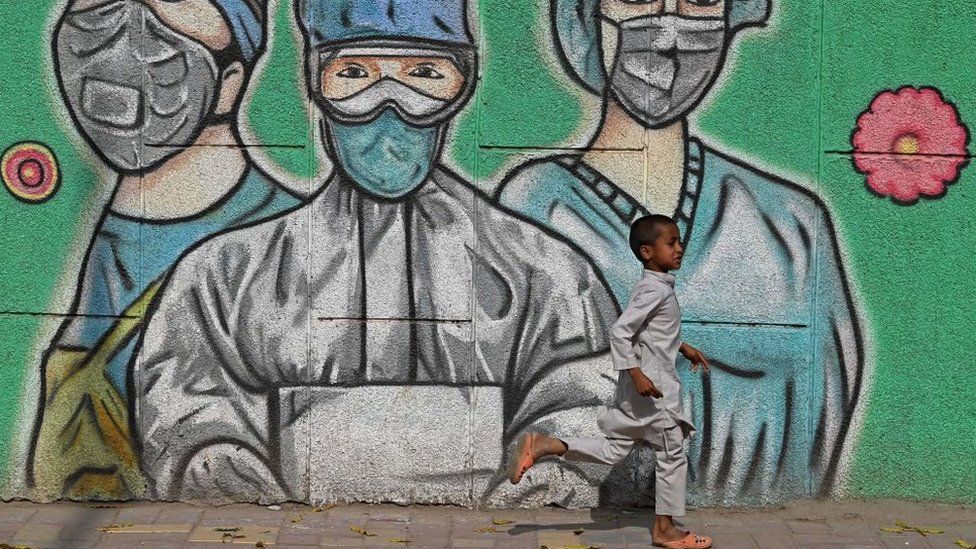 India's capital Delhi is set to gradually end its weeks-long lockdown as the number of new Covid cases continue to drop.
From Monday, factories will be allowed to operate and construction activities will also resume.
The city saw peaks of 25,000 cases in April but it's been reporting less than 1,500 daily cases in the past few days.
But officials warned that the pandemic was not over yet and urged people to keep following safety protocols.
Officials said more details about the phased easing of the lockdown will be released later. Delhi Chief Minister Arvind Kejriwal said unlocking was important to ensure construction workers and daily-wage labourers were able to earn money.
"At a meeting of Delhi Disaster Management Authority on Friday, it was decided that the lockdown be lifted gradually. We shouldn't have a situation where people escape the virus only to die from hunger," Mr Kejriwal said.
Many migrant workers come to the capital from various states across India to find work in the construction sector and in factories. The lockdown, which started on 19 April, meant that these workers were not able to find work.
Mr Kejriwal, however, warned that the battle was not over yet.
"We have with great difficulty controlled the virus. But we have not yet won. We should not lose the gains made by the lockdown so far. The situation is under control for now," Mr Kejriwal said, adding that if the rate of infections increase again, the unlocking process will be put on hold.
"So everyone must be cautious," added.
Bhramar Mukherjee, a University of Michigan biostatistician who has been closely tracking the pandemic. told the BBC's Soutik Biswas that "the notion that the peak has passed may give false sense of security to everyone when their states are in fact entering the crisis mode".
"We must make it clear that no state is safe yet."