Covishield: India vaccine maker halves production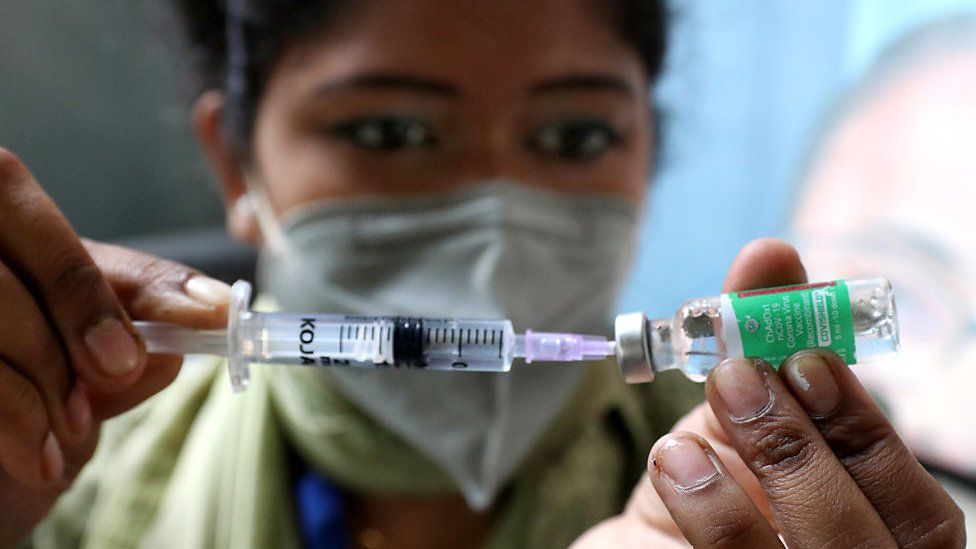 The world's largest vaccine maker will halve the production of its Covid-19 vaccine because it has no fresh orders, its top-ranking executive has said.
India's Serum Institute is sitting on a stockpile of half a billion doses of Covishield, the local version of AstraZeneca's Vaxzevria jab, the firm's CEO Adar Poonawalla told CNBC-TV18.
The jab accounts for 90% of the 1.3 billion doses given so far in India.
India has fully vaccinated half of its eligible adults since January.
"I am in a dilemma which I never imagined to be in. I am producing 250 million doses [of Covishield] a month but the good news is India has covered a large part of the population and we will have completed all our orders to the ministry of health in a week's time," Mr Poonawalla said .
"We have no other orders at hand. So I am going to be reducing the production by at least 50% to begin with on a monthly basis until orders again pick up either in India and the world."
Some 85% of Indians have been administered one dose. However, tens of millions of people are still to receive their second dose.
One way India could absorb the excess capacity of vaccines is by reducing the time between two doses of Covishield from 12-16 weeks to eight weeks, Partha Mukhopadhyay, a researcher at the Delhi-based think-tank Centre for Policy Research, told the BBC.
"Also India has vaccinated about 83 million of the roughly 130 million adults above 60 years so far. We still have a gap in terms of vaccine coverage among our most vulnerable people," he said.
Then there is the question of providing booster doses, which the government has yet to decide on.
Serum Institute halted vaccine exports in April to cater to domestic demand as infections shot up in India. The firm is the largest single supplier to Covax, the international scheme to ensure equal access to Covid-19 vaccines. India resumed Covid vaccine exports from October.
Mr Poonawalla said Covax was placing orders "but that's very slow and the uptick will pick up in the second quarter".
He said he was in touch with the leaders of countries which needed more vaccines, but many of them would "sadly" not be able to lift from India unless they improved their logistics and cold storage facilities.
"All these other nations cannot vaccinate at 7 or 8 million beneficiaries a day like India has done. They don't have that kind of infrastructure. Hopefully by this time next year they would have hopefully reached 60-70% of the target for double vaccination," Mr Poonawalla said.
In October, more than 160 former world leaders and global figures called on the UK and other rich countries to immediately airlift millions of surplus Covid vaccines to less developed nations.
You might also be interested in: