Chess Olympiad 2022: Meet the Indian women who made chess history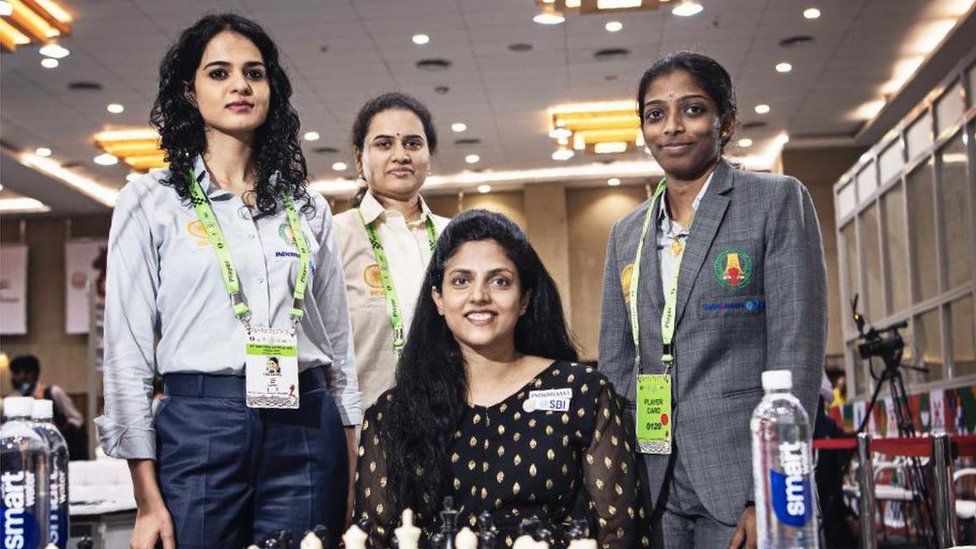 In just half a day, the Indian women's chess team went from the near-certainty of a gold medal at the Chess Olympiad to the dismay of a bronze.
They still made history - as the first-ever Indian women's team to win a medal at an Olympiad.
The Indians were no underdogs. Koneru Humpy, Harika Dronavalli, Tania Sachdev, R Vaishali and Bhakti Kulkarni - a delightful mix of long-serving mould-breakers and young prodigies - were the top seeds in the women's section. It helped that neither Russia nor China participated in the Olympiad.
The Indians were within touching distance of gold for the most part of their campaign - and in sole lead heading into the final round - before an awry 1-3 loss to USA. Tania and Bhakti bungled their lower board games while Humpy and Vaishali held on to draws. Tania, unbeaten with eight points from 10 games until the last round, struggled to come to terms with an inexplicably terrible last day. She lost to America's Carissa Yip, and was evidently gutted.
"I think it's really hard right now to understand the gravity of winning the first medal for the Olympiad," Tania said soon after, eyes downcast, fighting back emotions. "More than anything else I think it was about the way the tournament was progressing, we were leading. We're now dealing with having lost out on gold rather than winning the bronze."
It must be a unique, confounding feeling. A historic first medal that also serves as a memento of a missed opportunity. India did not lose their matches against the teams who finished ahead of them in the final standings - namely, Ukraine and Georgia. It was one of the reasons why a gold seemed probable.
But for a brief while, even the bronze was in doubt. After the final round games ended on Tuesday - with the gold and silver in the women's section going to Ukraine and Georgia respectively - India's medal fortunes hung in the balance. It took some manic tiebreak maths to decide whether the bronze medal went to India or the US. Numbers favoured Indians and the Americans had to make peace with a fourth place.
Humpy and Harika, the two Grandmasters in the Indian side, were theoretically the team's highest rated players. Harika balanced her advanced stage of pregnancy with the rigours of protracted classical games, and played out seven draws in a row. She sat out the last two games but showed up with the rest of the team to answer questions from the press about their performance.
Most of these women have been quietly crushing stereotypes for years. Humpy broke Hungarian legend Judit Polgar's record by becoming a Grandmaster at 15 years - she was the first Indian female player to gain the GM title. She went through a complicated pregnancy but got back soon after childbirth to become world rapid champion in 2019.
Harika has pulled all stops to be there for her team - travelling with husband and mother in tow, keeping in mind her looming delivery date.
Tania - an International Master - is quite the opposite of the stereotype of chess players as aloof and quiet. She's extroverted, chatty, and sought-after for commentary gigs and streaming appearances. Through the pandemic, she joined the growing breed of streamers who opened up chess to thousands of new followers. In this tournament, she was a tenacious fighter too, grinding out wins on demand.
Amid the mainstays was debutant Vaishali, sister of teen star player Praggnanandhaa and the youngest member of the side. This Olympiad showed that she's shaping up to be a valuable team member. Against third-seeds and former champions Georgia, she chipped in with a win along with Humpy to hand India the sole lead after six rounds, at half-way mark.
Playing at home in her first Olympiad meant instant pressure. Before every round, local press photographers would swarm around her, looking to capture every twitch. Her more popular sibling is already used to this sort of attention, but for Vaishali this was new, perhaps even discomforting. But she came through, finishing with an individual bronze for her efforts.
Bhakti, who at 30 sits somewhere between youngling and veteran, played the first three rounds and was rested for the following six. She was brought in for the final two rounds after Harika ruled herself out. She was among the crew that fashioned a massive 3.5-0.5 win over Kazakhstan in the penultimate match-up but didn't quite hold up in the pressure-cauldron of the final round.
The Indian women team's previous best result at an Olympiad was fourth place at the 2012 Istanbul Olympiad. It took a decade after that for their first bronze medal to come along.
But in a sport that suffers from a sizeable gender gap, both in participation figures and playing strength, this bronze may well be a bugle call for a whole new generation of girls.
You may also be interested in: