New influences for China's indie musicians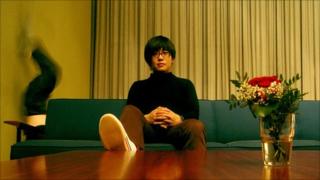 As part of a BBC World Service series on being creative in China, two musicians discuss China's alternative music scene. Nastaran Tavakoli-Far reports.
When Shanghai-based electronic DJ and producer B6 was a teenager, he had to find creative ways to get his hands on new music.
"Most of my generation grew up on 'cut' CDs - compact discs that were imported from the West to be recycled, then sold on the black market," the 28-year-old says.
"The first real CD I bought was Greatest Hits of Black Flag - I bought it on the street."
Abe, a guitarist in the Beijing-based indie band Bigger Bang! and the Band, also grew up coveting foreign music.
As well as buying CDs, he turned to the TV to hear Western music. "I'd watch TV series combining punk rock music with skating and car crashes," he says.
Both Abe and B6 say they were heavily influenced by sounds originating from outside China.
"I grew up with all this Western music, not Chinese music," said Abe, 29, who cites British bands from Culture Club to The Verve as inspirations.
B6's influences were more obscure: "Honestly, most of my influences come from the German minimal techno scene."
He says he was introduced to these sounds after being involved with Western DJs playing at clubs in Shanghai.
Web power
Both B6 and Abe say the internet has radically improved access to music for China's young people.
"We've had a big explosion over the past 10 years," says Abe. "We grew up so fast, there are now a million bands and a million rock 'n' roll kids in China."
Both say the internet has made all aspects of the music making-process easier, from hearing and composing music to distributing it to music lovers.
B6 says it used to be really difficult trying to get the equipment needed to make his brand of electronic music, but this is less of a concern today.
And on the distribution side, Abe feels there are few challenges in putting on shows and that it is easy to organise and promote concerts in both cyberspace and the real world.
But internet aside, they say it remains difficult to make a living as a musician, with B6 seen as one of the handful of "lucky guys" who can make music full-time.
He frequently plays at clubs and festivals in Europe and says that the majority of people who download his tracks are European.
Having released six albums and 2 EPs since 2001, he says that CDs are so cheap in China that only his Chinese fans are still in the habit of buying hard copies of his releases.
Bigger Bang! and the Band, meanwhile, have released an EP and are currently being courted by two independent Chinese record labels, with an album scheduled for release in the autumn.
Abe says 10,000 fans have joined their website so they can hear the band's music online.
'No roots'
Despite absorbing influences from the West, Abe and B6 say their work incorporates Chinese elements.
"The Chinese thing is in my soul and blood and in my bones," B6 explains. "I do Western music but I'm Chinese, so it's Chinese music."
They predict a growth in China's cultural influence, but believe this will take time.
The alternative creative scenes in China are still young, they say, and China needs a greater history behind these art forms first.
"This kind of culture needs a family tree," explains B6. "You need a history of music culture."
"But because of the Cultural Revolution the family tree in China is cut. We had 30 years of total emptiness here, no culture at all, so it's very hard to build up."
Abe says many music-makers of his generation face a challenge because of both China's past and its recent rapid development.
"It feels like we don't have roots," he says, then adds that it feels like China has "grown up so fast" over the last decade.
Both are nonetheless optimistic about the future of China's music scene.
Abe for one is already planning to continue the Chinese rock 'n' roll family tree. "I will teach my sons to play guitars," he says.