Chinese artist: Maleonn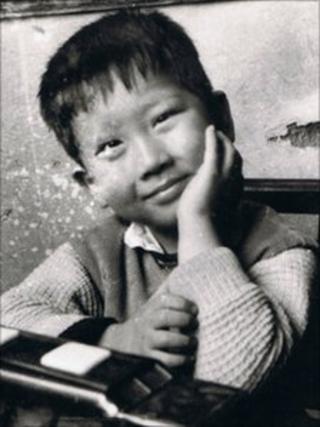 Maleonn grew up only minutes away from his state-of-the-art studio in Shanghai.
But the modern block that serves as the 38-year-old's workshop and home is far from the humble house where he lived.
"Artists these days enjoy more freedom," says Maleonn (Ma Liang in Chinese).
"Although I am essentially a photographer, I also draw," he says, "I also do installation and video arts."
But his current exhibition is different. It's very simple. Maleonn has named it White on White.
It is a collection of photographs of individuals and families from the past four decades.
"I'm interested in the memories that these photos evoke," he says, "the things that are forgotten, the things that should not be forgotten."
Maleonn's generation grew up during the last years of China's Cultural Revolution, when thousands of artists were persecuted by the Communist Party.
His mother was an actress and his father was a director of the Beijing opera. He says they also suffered during that time.
"I feel so much for my Mum and Dad," he says, "I really wanted to know what they've been through."
He says that is the main idea behind his latest exhibition - he wants to bring to life the stories of people who suffered during the Cultural Revolution.
"This is something that our generation don't quite understand," he says.
"I look at these photos, and they were so beautiful, but later I heard stories that many people in the pictures were sentenced, imprisoned for years or simply died young.
"I thought the fate of that generation was tragic indeed."
Future fears
Maleonn's parents are retired and live in a quieter part of Shanghai. Their old family home in the city centre had to make way for a modern building.
"In those days, we performed according to the wishes of the leadership," says his mother, Tong Zhengwei.
She says artists back then could never hope for the money and glamour that many of China's young artists find so easy to achieve now.
Maleonn adds: "I remember at the end of each month, my parents and I would empty each and every pocket of every coat. Even if we found a penny, my mum would be over the moon, because dinner was sorted!"
Both parents are proud of Maleonn's achievements.
"The other day, he showed me one of his works. It has lots of portraits, but each face was wiped out by a white pen," said his father Ma Ke.
"To a person like me who went through that extraordinary turmoil in China, that experience was frightening!"
"I got worried about my son putting up such an art work. What if another political movement were to break out?" he said. "You can lose your life!" he told Maleonn.
Scribbles on the wall
Compared to his parent's generation, Maleonn feels he has a lot more flexibility with his work. But he wants young artists in China to be encouraged more to express their thoughts.
"During my 11 years of art education, there was never a lesson on soul, inner thoughts, emotion or love," he said. "How can an artist not talk about these things?"
Maleonn says his way to overcome this barrier was to fall back on things he learned at home.
"When I was 10 years old, I scribbled a story about a war on the entire wall of our house," he says.
He could have been severely punished had it been any other family home. "But my artist parents, especially my father, thought it was rather cute and laughed it off."
And that, says Maleonn, gave him the encouragement to pursue his dreams.