Burma junta support group USDA disbands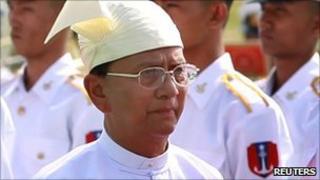 A powerful mass movement that supports Burma's ruling junta has disbanded and transferred its assets to a new political party, its spokesman has told the BBC's Burmese service.
The move is designed to ensure the junta dominates the election later this year, critics say.
The movement, USDA, has been blamed for assaults on opposition activists, including Aung San Suu Kyi.
The new party, USDP, was set up by senior members of the junta.
Under Burma's constitution, drawn up by the generals, 25% of seats in parliament are reserved for the military, but soldiers and civil servants are banned from standing as civilians.
However, Prime Minister Thein Sein, who has carried the rank of general, and 26 other top officials registered as part of the USDP (Union Solidarity and Development Party) earlier this year.
Official media outlets have stopped referring to the prime minister's military rank in recent articles.
Thura Myint Oo, a spokesman for USDA (Union Solidarity and Development Association), said the authorities had given permission for the movement to be dissolved earlier this month.
"From now on, there will not be the USDA but we will continue as a political party," he said.
"We have officially transferred all our assets to the party according to the central committee's decision."
USDA had been backed by rich and powerful patrons such as self-styled Senior General Than Shwe, the leader of the country's secretive junta.
The movement was said to number 24 million members - many of whom may have been conscripted.
Its members were implicated in the violent suppression of protests led by monks in 2007, and in an attack on opposition leader Aung San Suu Kyi in 2003.
The junta's critics say many of the possessions handed over to USDP belong to the state, which is illegal under election law.
But USDA insists the assets were theirs to hand over.
The last election in Burma was held in 1990. Ms Suu Kyi's National League for Democracy (NLD) won a landslide victory, but the party was never allowed to take power.
The NLD has boycotted the forthcoming elections, and other opposition parties have complained of difficulties in registering.
Analysts say the growing power of USDP means the military and its allies will dominate the parliament.