Australia horse butcher 'received death threats'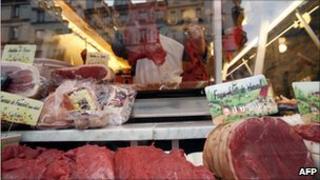 An Australian butcher says he has received death threats and hundreds of abusive e-mails, days after he began to sell horse meat.
Vince Garreffa has vowed to continue selling the meat despite the threats, describing it as a "taste of home" to his European customers.
The Perth butcher is thought to be Australia's only trader licensed to sell horse meat for human consumption.
He was given a licence last month after a long campaign to overturn a ban.
He told Australian broadcaster ABC that there had been a black market trade in horse meat for years among Europeans.
"If you and I didn't eat Australian lamb for 10 or 20 years and someone showed up with an illegally slaughtered carcass in the boot of their car, I know I'd be the first one to put up my hand to buy a leg," he said.
"You miss it so much; it's a taste of home. And to Europeans, horse is a taste of home.
Sizeable exports
"The French go nuts for it, and I've found they've gone to the trouble of buying it not only illegally when someone has offered it, but also offered it from pet shops who sell horse for our pets."
Despite a ban on butchers selling horse meat within Australia, the country has a sizeable export trade.
According to the government, between 30,000 and 40,000 horses are exported every year - an industry worth more than AU$10m ($8.8m; £5.7m) annually.
Some are slaughtered in Australia, and others are exported live.
Mr Garreffa, who claims his Mondi Di Carne shop is doing a steady trade in the meat, said he had received messages from people saying "whatever was being done to the horses was going to be done to me".
"The more I think about it over the last couple of days, I realise the amount of passionate people who really do care about animal welfare, and maybe it might not be as dangerous at it sounds," he said.