Australian opposition leader attacks snap election call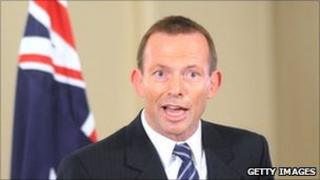 Australia's main opposition leader Tony Abbott, has criticised the nation's new Prime Minister, Julia Gillard, after she called a snap general election.
Mr Abbott said voters would not be "conned" by a leader who was running to the polls before she had established her credentials.
Ms Gillard, who leads the ruling Labor Party, earlier announced that elections would be held on 21 August.
She became prime minister in June after ousting her predecessor Kevin Rudd.
"Julia Gillard's recent past is so littered with failures, including the political corpse of an elected prime minister," Mr Abbot said at a meeting of his conservative Liberal Party in Brisbane, Queensland.
He added that Ms Gillard had so far failed to prove that she was able "to lead our nation".
'Toughest fight'
The race between Labor and the Liberal Party is expected to focus on the economy, health, climate change and immigration.
It will be the toughest fight in Ms Gillard's political life, the BBC's Phil Mercer in Sydney says.
Recent opinion polls give Labor a slight lead over the Liberals and Ms Gillard will be hoping to secure another three-year term, our correspondent adds.
In a televised address in Canberra, the country's first female prime minister admitted that the poll would be "tough and close".
"This election is about the choice as to whether we move Australia forward or go back," Ms Gillard said.
"Moving forward means moving forward with budget surpluses and a stronger economy."
She said that it also "means moving forward with stronger protection of our borders and strong plan, a real plan, that takes away from people-smugglers and the products they sell".
Labor wrangles
Ms Gillard became Australia's prime minister last month after a surprise leadership vote saw Mr Rudd deposed.
Mr Rudd chose not to take part in the ballot, knowing he would suffer an embarrassing defeat to his deputy.
Labor has suffered a sharp drop in support in opinion polls this year.
A U-turn on a carbon trading scheme and a wrangle over a controversial mining tax led to a sharp slide in approval ratings for Mr Rudd's government.
Ms Gillard was born in Barry in south Wales, moving to Australia with her family at the age of four.