US and South Korea to hold major military exercise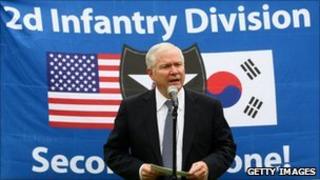 The US and South Korea say they will begin a major military exercise aimed at sending a message of deterrence to North Korea on 25 July.
The four-day exercise, in the Sea of Japan (East Sea), will involve 20 ships, 200 planes and 8,000 personnel.
The announcement came as defence chief Robert Gates visited South Korea in a show of support for the US ally.
On Wednesday he and Secretary of State Hillary Clinton will visit the demilitarised zone dividing the Koreas.
Ties between the two Koreas have deteriorated significantly following the 26 March sinking of a South Korean warship, the Cheonan, with the loss of 46 sailors.
International investigators say a North Korean torpedo sank the ship, but Pyongyang denies this and has demanded its own investigation.
The UN Security Council has condemned the attack without assigning blame.
'Aggressive behaviour'
The US promised to hold joint drills with South Korea in the wake of the Cheonan incident.
In a joint statement, the two countries' defence chiefs said that the exercises were aimed at Pyongyang.
"These defensive, combined exercises are designed to send a clear message to North Korea that its aggressive behaviour must stop, and that we are committed to together enhancing our combined defensive capabilities," the statement said.
More drills would follow, the statement said, in both the Sea of Japan and the Yellow Sea, to the west of the Korean Peninsula.
The nuclear-powered aircraft carrier, the USS George Washington, is due to arrive in the South Korean port of Pusan on Wednesday. Three other US destroyers are due in South Korea on the same day.
So too is US Secretary of State Hillary Clinton, for high-level security talks. She and Mr Gates will also pay their first joint visit to the heavily fortified demilitarised zone that divides the two Koreas.
Speaking during a visit to Camp Casey, a US base 20 miles south of the demilitarised zone, Mr Gates said he and Mrs Clinton planned to meet US and South Korean troops deployed along the frontier.
"Secretary Clinton and I, along with our Korean counterparts, will visit the DMZ to highlight how important operations are there to the security of the peninsula as well as the region and demonstrate our steadfast commitment to the [Republic of Korea]," he told reporters.
North and South Korea technically remain at war because their three-year conflict ended in an armistice in 1953 and no peace treaty was signed. The US has since stationed thousands of troops in South Korea.