MasterChef final forces Australia election debate move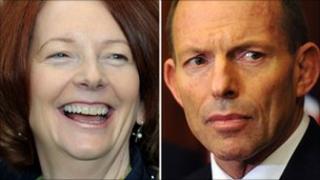 Australia's prime ministerial candidates have been forced to move their one and only election debate - because of TV reality hit MasterChef.
The debate is traditionally shown at 1930 on the first Sunday after the election is called.
But the final of cooking show MasterChef is due to air at the same time, and up to four million Australians are expected to watch it.
The debate has now been moved forward by an hour, to 1830, to avoid a clash.
Prime Minister Julia Gillard said she understood the MasterChef fans' dilemma.
"I can understand the fascination with cooking and eating," she said.
"So I know many Australians will watch that show but I think Australians will still pay some regard to the debate and to the election campaign and what's said in it."
Ms Gillard will face off against opposition leader Tony Abbott, with the issues of immigration, climate change and the economy top of the agenda.
The election takes place on 21 August.