Tonga ferry disaster manslaughter trial starts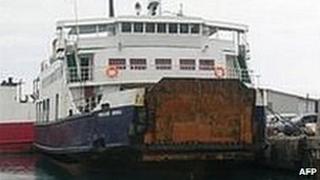 The manslaughter trial of four men charged with causing the death of a Tongan mother in the Princess Ashika ferry disaster has begun in the Tongan capital, Nuku'alofa.
One of the four on trial is the shipping company's managing director, New Zealander John Jonesse.
The others are the ferry's captain and first mate, and a Tongan civil servant.
The Princess Ashika ferry sank on 5 August last year, causing the deaths of 74 people.
The four men are charged with the manslaughter of 21-year old Vae Fetu't Taufa, and with sending and taking an unseaworthy ship to sea.
Mr Jonesse, the former chief executive of Shipping Corporation of Polynesia, who advised Tonga authorities to buy the vessel, was also charged with using a forged document.
A Royal Commission inquiry into the sinking was told that the unseaworthy vessel's purchase was "alarming".
Its final report said the Shipping Corporation of Polynesia had recommended the ferry's purchase "without any proper due diligence, surveys, inspections, valuations, documentation or proper inquiry having been completed".
The disaster should not have happened, it said.
"The tragedy is that they were all easily preventable and the deaths were completely senseless," the inquiry said.
"It was scandalous that such a maritime disaster could ever have been allowed to occur. It was a result of systemic and individual failures."
The charges carry possible sentences of up to 25 years. Tonga'n police said there may be more arrests as further evidence is gathered.