Two UK soldiers shot dead in Afghanistan rescue bid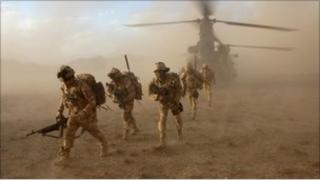 Two British soldiers have been shot dead in Afghanistan while trying to rescue a wounded colleague.
A UK military spokesman said they died in the Lashkar Gah district of Helmand on Wednesday evening performing a "courageous and selfless act".
One was from The Royal Dragoon Guards and the other from 1st Battalion Scots Guards. Their families have been told.
A total of 324 UK service personnel have been killed in Afghanistan since operations began in 2001.
The number killed in the first half of this year was double that in the first half of 2009.
Evacuation attempt
Lt Col James Carr-Smith, spokesman for the British military's Task Force Helmand, said: "The soldiers were part of a cordon operation providing security for a routine rotation of troops when they were killed by small arms fire.
"In the courageous and selfless act of attempting to evacuate an injured colleague, they themselves were shot and fatally wounded.
"They died helping their friends. Their sacrifice will never be forgotten. We will remember them."
The bodies of four British servicemen killed in separate incidents in Afghanistan inside 24 hours will be repatriated to RAF Lyneham in Wiltshire on Thursday.
Staff Sgt Brett Linley, 29, of 11 Explosive Ordnance Disposal Regiment, and Sgt David Monkhouse, 35, of The Royal Dragoon Guards, both died on Saturday.
Senior Aircraftman Kinikki Griffiths, 20, of 1 Squadron RAF Regiment, and Marine Jonathan Crookes, 26, of 40 Commando Royal Marines, died the previous day.
'Mixed messages'
The latest deaths come after David Cameron defended the coalition government's statements over plans to withdraw troops from Afghanistan.
The prime minister, his deputy Nick Clegg and Foreign Secretary William Hague have all said British forces would not remain in a combat role beyond 2015.
Mr Cameron has also said the pull-out would be "conditions-based".
In the Commons, shadow foreign secretary David Miliband accused the government of sending out "mixed messages".
Talking to the BBC, Mr Cameron said there was "absolutely no contradiction between the two things".