US drops training ban on Indonesian special forces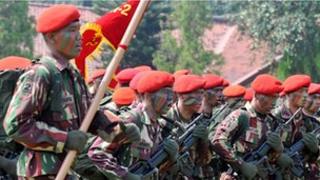 The US is to resume training Indonesia's special forces 12 years after it cut ties over concerns about human-rights abuses in the 1990s.
The "gradual" re-establishment of the relationship was announced by the US Secretary of Defense Robert Gates in the Indonesian capital, Jakarta.
In 1998, the US passed a law banning military co-operation with countries with questionable human-rights records.
The US says there have been reforms in Indonesia's military since then.
Actual training programmes will not start immediately, a spokesman said.
Crack troops
The Indonesian elite special forces, known as Kopassus, were implicated in human rights abuses during ethnic conflicts in East Timor and Aceh.
Kopassus are the crack troops of former President Suharto, and are believed to have been behind many covert operations during his 32-year rule.
These included the alleged abduction and disappearance of opposition activists and the attempted suppression of independence movements.
Many of the unit's commanders had received training in the US.
Concerns
The US will resume working with Kopassus, a US official said during Mr Gates' visit to the Indonesian capital.
"We will begin a gradual, measured process of working with Kopassus," a US official told reporters.
There had been progress in reforms to the unit, and pledges of further reform, according to the spokesman.
"Individuals who have been convicted in the past for human rights violations have in the past several months been removed from Kopassus," the official said.
But human rights groups say concerns about the unit's conduct still remain.
Human Rights Watch wrote to US lawmakers in April with concerns about human rights abuses allegedly committed by the unit in 2009, for which no soldier had been indicted to their knowledge.
Indonesia has the world's largest Muslim population and is seen as a key regional player by the administration of President Barack Obama.