Kyrgyz ex-leader's brother held over ethnic riots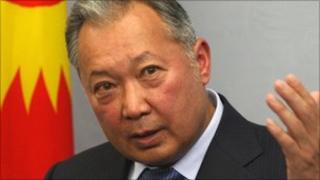 Police in Kyrgyzstan have detained one of the brothers of ousted leader Kurmanbek Bakiyev.
Akhmat Bakiyev was captured in a raid on an apartment in the southern city of Jalalabad, the region hit by deadly ethnic violence in June.
Officials said he was arrested on suspicion of fomenting the unrest.
Kyrgyz authorities have accused the Bakiyev family of instigating the violence that erupted between the ethnic Kyrgyz and Uzbek communities.
Officials say as many as 2,000 people may have died in the clashes. Hundreds of thousands were forced to flee their homes.
"Akhmat Bakiyev was arrested in one of the multi-storied homes near the centre, where he was renting an apartment. He did not put up resistance though he was armed," said local deputy police chief Melis Turganbayev.
"He is accused of organising mass riots, sparking inter-ethnic conflict and organising illegal armed groups."
Kurmanbek Bakiyev - who drew much of his support from southern Kyrgyzstan - was ousted in mass protests in April.
He is now in exile in Belarus, although the new Kyrgyz government says its wants him to face trial over the 85 deaths in April's protests.
Kyrgyz authorities are also seeking another of his brothers, Zhanybek, who is accused of giving the order to fire on protesters in April.