China-Iran: Old ties, modern dependency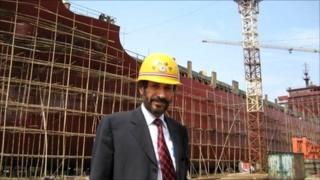 Captain Abdolaziz Moarref spreads a blueprint over the desk in front of him, and shows me his company's design for a heavy-duty tug boat.
Behind him, in his Shanghai office, are the flags of China and Iran.
For four years he has been working hard to build up his business.
The captain - he prefers to be known by the title that dates back to his sea-faring days - helps clients to build ships here in China.
He works for firms in Africa, the Middle East, and his home country, Iran.
But in the last few weeks, part of his business has dried up.
At around the same time that the United Nations agreed new sanctions against Iran to try to pressure it to abandon its nuclear programme, he says Chinese banks stopped accepting letters of credit from Iran.
He blames the UN Security Council.
'Mobbed'
"Because of these sanctions now, this year I have stopped my business. I cannot export anything to Iran," he says.
"We cannot buy even normal goods, necessary things for our people".
Iranian President Mahmoud Ahmadinejad visited Shanghai last month, a few days after the UN decision to tighten the sanctions.
There was chaos.
He was mobbed by reporters and supporters as he toured the Iranian pavilion at the World Expo.
But none of China's senior leaders came to meet him.
Captain Moarref complains that "politics is now getting in the way of economics".
He believes Iran has every right to pursue a nuclear programme, but he is unhappy that the issue appears to be harming his business.
'Friendly'
It is a concern recognised by academics like Professor Zhu Weilie, a Middle East expert from Shanghai International Studies University.
He points out that Chinese merchants have traded with their Persian counterparts for centuries along the silk routes.
"There has never been a problem between these two peoples," he says.
He believes his country's ties with Iran are being tested by the nuclear crisis, but he insists they will not be broken.
The professor believes China will do what it can to try to bring the Iranians back "into the international system".
"We are not hugging them close like a friend," he says, "but we are friendly."
At Shanghai's World Expo, in the pavilion built by state-owned oil companies, it soon becomes clear why China feels it is important to maintain those ties.
The huge building - one of the most popular on the site - is filled with exhibits designed to remind Chinese people why oil is so important.
A 3D film at the pavilion shows what would happen if the oil ran out.
No plastic, no paint, no clothes even - producing shrieks of horror from the audience.
Thirst for oil
Searching for stable and long-term sources of oil has long been a priority for the Chinese government, and Iran is one of the most important sources it has.
Tehran supplies about 14% of the crude oil Beijing needs.
So, should the international community decide to tighten the sanctions even further and cut that supply, China would suffer.
So too would the rest of the world though, says oil analyst Qiu Xiaofeng.
"If Iran was stopped from producing oil, the rest of the world would struggle to make up the capacity, so the oil price would go up," he says.
"That would be bad for everyone. Not just for China, an oil importer, but for the US and others - anyone importing oil".
The problem for China is that even if it keeps the oil flowing from Iran at current levels, its thirst for energy keeps increasing.
By the middle of this decade, more than half of China's population will live in cities.
That will create huge additional needs for power, and make the sources of the energy China imports - countries like Iran - more and more important if China's growth and development is to continue.