Cambodia voices: Sarakmony Pich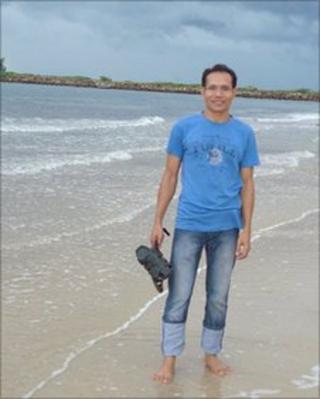 Sarakmony Pich, 37, works for an NGO and lives in the Cambodian capital, Phnom Penh.
"It is very painful to recall the difficult situation our family was put in after the Khmer Rouge took power. We were so fragile.
My dad was the first to be sent to a remote area with a group of friends. He had told my mum that if the communists came, he would not survive.
This turned out to be the truth - I didn't see him again.
A little while after the departure of my dad, the rest of the family was forced to leave our home in Siem Reap, together with many other people. We were sent to the countryside. My mum later told me this - I was only three-and-half years old at the time.
My mum and my siblings were living in extremely bad conditions. My mum was on her own with six children between the ages of six months and 12 years. We were empty-handed. We lived under a tree for about three months until my mum got help from other people to build a small thatched hut.
After that the Khmer Rouge separated us, I was sent to live away from mum in a camp for children. The camp was only a few kilometres from where my mum was, but I couldn't see her for a year, until they let us go.
While there, the Khmer Rouge educated us to love the Angkar [Khmer Rouge Organisation] and forced me and other children to work extremely hard.
I really missed my mum and I tried to escape from that horrible place many times but I couldn't. Every time I tried I was always caught and beaten by the Khmer Rouge.
This is the nightmare I often have.
Justice vital
The impact on us and everyone else in Cambodia was huge. I lost my cousins, uncles, aunts and other relatives. We lost all our possession and our house.
We were left empty-handed. We had to restore everything from scratch. I cannot describe this situation.
The punishment of the guilty ones, especially the top Khmer Rouge leaders, is very important to me.
I still don't understand why they killed their own people and destroyed their own country. What did they have against living together in a peaceful way?
A verdict for Duch will not only comfort the survivors, but it will serve as a lesson for other leaders."