Chinese court 'jails Uighur journalist'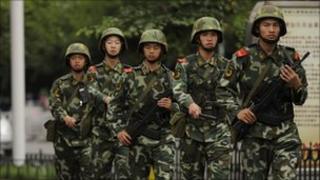 A Uighur journalist who spoke to foreign media after riots in Xinjiang last year has been sentenced to 15 years in prison, his employer said.
A regional court in China's remote western region found Gheyret Niyaz guilty of endangering state security.
Correspondents say the sentence is unusually long for someone with a low international profile.
Nearly 200 people were killed last July in clashes in Xinjiang between Muslim Uighurs and Han Chinese.
The Uighurbiz.net website, where Mr Niyaz worked as an administrator, posted a note quoting his wife who was in the court on Friday.
"Gheyret Niyaz admitted in court that he accepted interviews from foreign media, but insisted that he had no malicious intentions and was only doing what a citizen, or reporter, should do," his wife, Reshalaiti, was reported as saying.
Mr Niyaz, who also worked as a reporter for the Xinjiang Economic Daily, was one of numerous journalists and bloggers to be arrested following the 2009 unrest.
According to the Uighur American Association, Mr Niyaz was generally supportive of the Chinese government.
But he had been critical of regional inequalities and of government action towards Uighur separatism, the association said.
The clashes that erupted in the city of Urumqi on 5 July 2009 were the region's worst ethnic violence in decades.
The fighting ended after huge numbers of troops were deployed in the region.