China PM Wen Jiabao makes new flood warning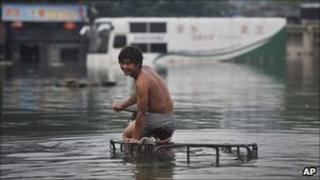 South and central China, reeling from the worst floods in 12 years, could face even more severe deluges, Premier Wen Jiabao has warned.
Mr Wen, pictured in state media wading through knee-high water in Wuhan, said the situation was at a "crucial stage".
Floods have forced many thousands of people from their homes and claimed hundreds of lives this year.
The Three Gorges Dam, built in part to calm China's longest river, the Yangtze, is running almost to capacity.
Mr Wen was quoted on state media as ordering officials to step up flood prevention and prepare for "more serious floods and disasters".
Some 742 people have been killed and 367 have been registered missing in floods so far this year, according to official figures released on Friday.
The state-run Xinhua news agency reported that 120 million people had been affected by floods, 670,000 homes had been washed away and the cost to the economy so far was 150bn yuan (£14bn; $22bn).
In other developments:
some 100,000 people have been evacuated from their homes in Sichuan province near the sharply rising Jialing River, according to local reports
the Luofu River in the north of Sichuan province has burst its banks, forcing 6,400 people from their homes, Xinhua says
thirteen people have been killed in a landside in Pingliang city, Gansu, a local official tells the Associated Press
Officials are particularly anxious about the performance of the Three Gorges Dam, the world's biggest, which is facing its most severe test since being put into operation four years ago.
The authorities are using the dam to limit the amount of water flowing further downstream to try to minimise the impact of devastating floods.
Xinhua reported that the water level at the dam had risen above 158m (518ft) on Friday - 17m short of its capacity.
China is dealing with its worst floods since 1998, when more than 4,000 people died and 18 million people were displaced.