Burma's Than Shwe welcomed in Delhi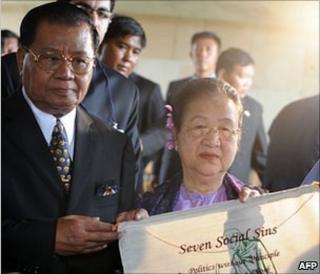 Reclusive Burmese junta leader General Than Shwe has received a red carpet welcome in the Indian capital on a state visit condemned by rights groups.
He met Indian PM Manmohan Singh in Delhi on a rare five-day trip that aims to deepen the economic and strategic ties between the two nations.
Officials from the two countries signed deals to combat cross-border smuggling and increase trade.
On Monday, pro-democracy protesters demonstrated against the visit.
They shouted slogans and carried posters in Delhi labelling the leader, whose regime crushed monk-led pro-democracy protests three years ago, a murderer and dictator.
On Tuesday, the general was accorded a full ceremonial welcome at the presidential palace in Delhi, although the traditional guard of honour was missing because rain forced the event indoors.
Officials later signed agreements aimed at tackling smuggling of weapons and drugs across their mutual border, and co-operation deals on science and technology.
Gas resources
Burma's junta is accused of widespread human rights abuses.
Until the mid-1990s, Delhi was a supporter of Aung San Suu Kyi, Burma's imprisoned pro-democracy leader.
But analysts say India's desire to compete with China for access to Burma's vast natural gas resources has since outweighed concerns over human rights.
Than Shwe is expected to seek India's endorsement for his country's first elections since 1990, which the military regime has said will be held later this year.
Western nations have labelled the proposed ballot a sham, while Aung San Suu Kyi's opposition party has been forced to disband after refusing to take part.