Facebook leads Philippines police to murder suspect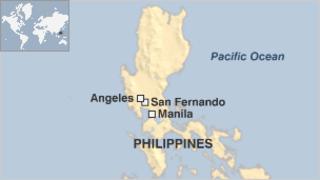 Police in the Philippines have arrested a suspect in the murder of nine people, including three foreigners.
The suspect, Mark Dizon, was arrested in the northern city of San Fernando after being identified through his Facebook account, police said.
He is suspected of killing an American, a Briton, a Canadian, their Filipina partners and three domestic staff in a string of robberies throughout July.
Mr Dizon, who has not yet been charged, has denied involvement in the killings.
"He was fond of computers and this gave him away," said police superintendent Danilo Bautista.
American Albert Mitchell, 70, Briton James Porter, 51, and Canadian Geoffrey Bennun, 60, lived in gated communities in Angeles city, an area popular with retired expatriates.
They were shot with the same 9mm pistol and electronic items were stolen from their homes.
Mr Dizon allegedly tried to sell some of the items stolen from Mr Bennun, who was killed on 12 July with his girlfriend.
Four days later Mr Porter and his girlfriend were shot dead in their home.
Mr Mitchell was killed last week with his wife Janet and three Filipino staff inside their home.
A fleeing gunman was seen and described to police, Mr Bautista said.
A family friend of the Mitchells heard the police description and recognised Mr Dizon as a Facebook friend of the Mitchells' daughter, he said.