Activists challenge Indonesia firm on logging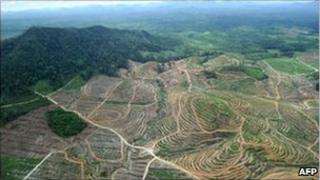 Greenpeace has accused a major Indonesian conglomerate of continuing to log in high conservation-value rainforests.
The environmental activists' group said subsidiaries of Sinar Mas, an agribusiness giant, were logging in peat forests and orangutan habitats.
Sinar Mas says it complies with Indonesian law and denies wrong-doing.
The company is due to release an audit responding to previous Greenpeace allegations on 10 August.
Sinar Mas-linked firms have lost high-profile clients including Unilever and Nestle after earlier Greenpeace claims of virgin forest destruction.
Fresh claims
Greenpeace's latest accusation is that while the audit - originally due to be released in July - is being produced, logging is continuing in carbon-rich peat forests and orangutan habitats in Ketapang district, in Indonesia's West Kalimantan province.
"Our photos provide fresh evidence of Sinar Mas's continued active clearance of remaining rainforests and deep peatlands," said Greenpeace Indonesia forest campaigner Bustar Maitar.
"Contrary to their claims of sustainability, land-clearing is still happening on the ground."
In a statement, PT SMART Tbk, a palm oil subsidiary of Sinar Mas, said all its concession areas were "located on degraded land, based on government concessions and in accordance to national laws and regulations".
"Deforestation and the impact of orangutans and other biodiversity would have already taken place well before SMART or GAR [Golden Agri-Resources Ltd, SMART's parent company owned by Sinar Mas] had management or control of it," the statement said.
If areas of high-value conservation forest existed within concession areas, they were protected, the company said.
Huge amounts of greenhouse gases are emitted when peatland forests are cleared and drained.