UK author Shadrake's Singapore contempt trial adjourned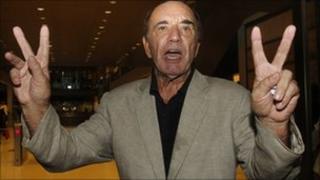 The trial in Singapore of a British author charged with contempt has opened and adjourned.
Alan Shadrake is accused of contempt of court by the Singapore Attorney General over a book he wrote which criticises the application of the death penalty.
If found guilty, Mr Shadrake could be given up to two years in prison.
The case has highlighted not just the use of capital punishment, but the broader issue of freedom of speech in Singapore where dissent is rare.
The title of the book leaves little room for doubt as to the tone of the content: "Once A Jolly Hangman - Singapore Justice in the Dock".
No regrets
It is a critique of the way the death penalty is applied, alleging double standards and a lack of impartiality.
The Attorney General argues passages of the book scandalise the Singapore judiciary and undermine the authority of the courts, and that is why they have brought the contempt charges against the 75-year old author.
But human rights groups say the Singaporean authorities too often resort to the courts to silence their critics.
Mr Shadrake is also under investigation for criminal defamation.
Speaking outside the court, he told the BBC he would never apologise.
"I will not grovel to them," he said. "I will carry on this fight."