China searches river for missing chemical barrels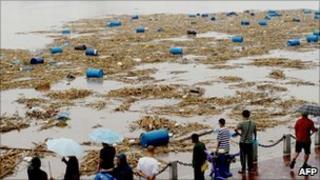 Emergency teams in north-east China are continuing to search a major river for barrels of toxic chemicals.
Some 7,000 barrels were swept into the river in Jilin province on Wednesday; 3,000 contained the liquid chemicals.
Officials said 2,978 drums had been retrieved, but it was unclear if they were empty or full, said state media.
China is suffering its worst seasonal flooding in a decade, which has left hundreds dead and missing across the country.
Teams of workers using cranes and nets had managed to retrieve the 2,978 barrels from the Songhua river by midday on Friday, said the Xinhua news agency.
But there are concerns that some of the barrels, which were swept away from a factory in Jilin city, could have sunk to the riverbed, making them harder to find, the agency reports.
The Songhua River is the largest tributary of the Heilongjiang river, also known as the Amur river in Russia, on the China-Russia border.
It is a source of drinking-water for several million people and is being tested for possible contamination, but officials have said there is no sign that the chemicals have leaked into the water.
Water supplies in the city of 4.5 million people were briefly suspended and panic-buying reported as residents stocked up on bottled water.
But by Thursday morning water supplies had been mostly restored, reports said.
Large parts of Jilin province remain under water after the intense flooding, which officials say has affected some 150,000 people.
In Yongji County, at least 27 people have been killed since Sunday, officials told Xinhua, while 21,875 buildings were destroyed and 254,000 people evacuated.
Others were trapped as roads became impassable and bridges were swept away.
"We can not go to the Yongji town as you can see the bridge has collapsed. Another bridge connecting Jilin City and Yongji has also collapsed," said local resident Zhang Weidong.
"There is no way for us to go."
The Chinese authorities say a total of 134 million people in 28 provinces have been affected by the severe weather which has hit the country.
Floods and landslides have left nearly 1,000 people dead and tens of thousands homeless.