Mine swept from North Korea kills South Korean man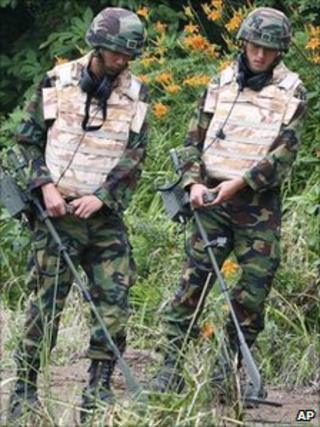 A landmine apparently swept along a river from North Korea has killed a man in South Korea, the South Korean military says.
The device exploded after the man found two mines in the restricted border area of Yeoncheon and attempted to take them home.
A second man was injured in the explosion.
A military official said it was unclear if the men knew that the objects they picked up were mines.
In the last two days about 30 landmines in wooden boxes have been found in South Korean rivers, the official said.
He added the weapons might have been swept along by heavy rains and flooding in the North.
The army has issued a warning to residents in the border area.
Soldiers and police are searching for more stray wooden box mines, the official sad.