Environmental activists win Ramon Magsaysay award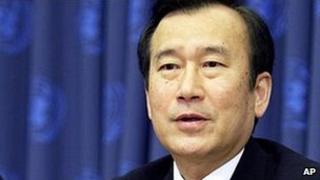 The mayor of Hiroshima, in Japan, and a Chinese photographer who has documented pollution in the face of official harassment are among the winners of this year's Ramon Magsaysay prize.
The award, named after an ex-president of the Philippines, is widely seen as Asia's version of the Nobel prize.
Mayor Tadatoshi Akiba, a survivor of the WWII nuclear bomb, has led a global campaign for nuclear disarmament.
Photographer Huo Daishan has publicised the poisoning of the Huai river.
Two other Chinese environmental campaigners were also chosen for the award - a vice minister of environmental protection and a village leader.
Other recipients include a husband and wife team of science teachers in the Philippines and a Bangladeshi entrepreneur.
The awards are named after President Magsaysay, a Philippine leader who was revered for his commitment to democracy and to improving the life of ordinary people.
Nuclear weapons
Tadatoshi Akiba was just three years old when an atomic bomb hit his home in Hiroshima.
Now in his third term as mayor, he's developed the Japanese city into a centre for promoting world peace.
The award organisers said he had recognised the need to warn others about the danger of nuclear weapons.
"I feel it shows a positive assessment of our efforts to realise a world free of nuclear weapons," he said of the award, adding he would accept it on behalf of atomic bomb victims.
Huo Daishan, from China's Henan province, was honoured for braving official harassment to document the massive amounts of pollution in China's third largest river.
He told the BBC Chinese Service that he felt compelled to act.
"We are children of the Huai river, and we don't want to see it continue to be polluted this way, especially when the pollutants are creating ecological problems and affecting our quality of life."
He said he had created eight monitoring stations along an 800km stretch of river.
"We are on guard 24/7.... People call us the Defenders of the Huai River, we are now the eyes and ears of the government environmental protection agencies," he told the BBC.
The awards will be presented on 31 August in Manila.