Talks after pilots' exodus grounds Philippine planes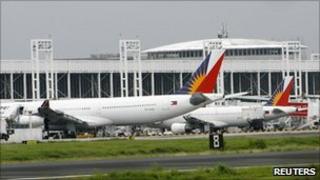 Government officials in the Philippines are holding a second day of emergency talks with the national airline to stop an exodus of pilots.
Several domestic flights have been cancelled so far, but international flights have not yet been affected.
At least 25 pilots have resigned at short notice in recent weeks, allegedly lured away by other Asian and Middle Eastern carriers.
More than 20 planes have been grounded since Saturday for lack of pilots.
Philippine Airlines has threatened to sue the missing pilots for breach of contract.
"We would like to assure you that we will not cancel flights to the US," PAL president Jaime Bautista told local ABS-CBN television.
The carrier also flies to the Middle East, Australia and East Asia.
"In case there are flight disruptions we can re-book, we can re-issue tickets. There will be no penalties and we will see to it that they will be accommodated in the next available flights," Mr Bautista said.
President Benigno Aquino has urged all those involved to find a solution as soon as possible to avoid damage to the economy.
The BBC's Philippines correspondent Kate McGeown reports from Manila that the pilots' union has made no comment about their resignations.
But Philippine Airlines has warned it may file legal charges if they do not come back to work.
It has accused the pilots of breaking the terms of their contracts - by not giving enough notice that they were leaving, and not staying long enough to cover the cost of their training.
"We want them all back," Mr Bautista said of the departing staff.
Philippine Airlines covers about 40% of all domestic and international flights in the Philippines, but it has lost money in recent years and is currently trying to cut costs.
To add to its woes, its flight attendants are planning to go on strike too, our correspondent reports.
They are complaining of poor pay as well as the lowering of their compulsory retirement age to 40 years old.