North Korea vows 'retaliation' over Yellow Sea drill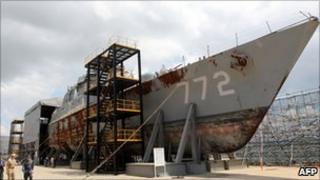 North Korea has threatened "strong physical retaliation" against planned South Korean naval exercises near the disputed maritime border.
In a statement, the North's military said that the Yellow Sea exercises, which are due to start on Thursday, were an act of reckless provocation.
It warned all civilian shipping to avoid the area.
The exercises follow major joint US-South Korean drills in the Sea of Japan last month.
They were intended as a show of strength to Pyongyang following the sinking of a South Korean warship on 26 March.
Forty-six South Korean sailors were killed when the Cheonan went down in the Yellow Sea near the disputed maritime border.
International investigators say a North Korean torpedo sank the ship, but Pyongyang denies this.
'Military invasion'
The South Korean exercise, which will run from 5-9 August, is an anti-submarine drill involving all branches of the country's military.
North Korea's reaction came in a statement carried by state media citing military leaders.
It called the exercises "a direct military invasion aimed at infringing upon the DPRK's [North Korea's] right to self-defence".
Military leaders "made a decisive resolution to counter the reckless naval firing projected by the group of traitors with strong physical retaliation", it said.
Last month, the North threatened nuclear retaliation over the joint US-South Korea naval exercises, but these passed without incident.
But the disputed Yellow Sea border has long been seen as a flashpoint and there have been a number of clashes there in the past.
The boundary was drawn by the UN at the end of the Korean War in the 1950s - and North Korea does not recognise it.