China Foxconn factory confirms another worker death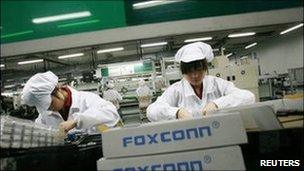 A 22-year-old female worker at a Foxconn factory in China has died after falling from a high building this week.
Foxconn, whose parent company is Hon Hai, the largest electronics components maker, confirmed the death.
It said the woman fell from a dormitory on Wednesday; she worked in the packaging department in the Kunshan factory in eastern Jiangsu province.
Police are investigating whether the death was suicide, following a spate of suicides at Foxconn plants this year.
A total of 13 Chinese employees have committed suicide at Foxconn or related plants, including 10 in the southern city of Shenzhen.
The company says the deaths were not work-related, but families of the deceased have blamed the punishing work schedules in China's factories.
The deaths have sparked wider concerns about working conditions in China and drawn attention to the growing labour movement and frequent strikes on the mainland.
Hon Hai's clients include Apple, Dell and Hewlett-Packard computers.