Troops in China blast a dam to release flood water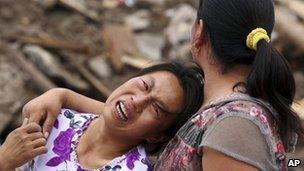 Troops have begun blasting through rubble from a landslide blocking a river in western China in an attempt to prevent further floods.
Torrential rain caused the landslides which hit Zhouqu county in Gansu province on Sunday.
Some 127 people are known to have died and almost 1,300 remain missing.
Water had begun to build up dangerously behind the landslide dam and the blasts have allowed some water to drain away safely easing the pressure.
Thousands of people who live downstream from the dam have been evacuated.
In another part of the county a 74-year-old woman was reportedly pulled alive from the rubble and mud, 34 hours after the landslides.
The woman, who has not been named, was weak from hunger and thirst, but in a stable condition reports from the state news agency Xinhua said.
The dead, wrapped in blankets, are being collected by rescue workers but the government has not yet updated their casualty figures, it was reported.
More than 4,500 soldiers, firefighters and medical staff have been sent to Zhouqu, as well as helicopters and aircraft.
Zhouqu county, which is part of Gannan Tibetan Autonomous Prefecture, lies in a narrow valley by the Bailong river, which was cut off by the landslides.
The threat of further flooding has been reduced, says the BBC's Michael Bristow in Beijing.