Toyota suspends exports to Iran amid nuclear concerns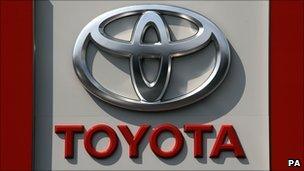 Japanese carmaker Toyota says it has suspended exports to Iran indefinitely, amid growing international pressure on Iran over its nuclear programme.
The company said in a statement that it had halted sales in early June after considering "the international environment".
Toyota's sales in Iran have fallen sharply in the past two years.
But the US, which is leading moves to put pressure on Iran through sanctions, is the company's biggest market.
The Nikkei business newspaper reported that Toyota had made the move because firms dealing with Iran had come under scrutiny from the US government.
Toyota would "continue to closely monitor the international situation", the company said in a statement.
In 2008 it sold 4,000 vehicles in Iran, but sales have since fallen sharply. This year it has so far exported 220 vehicles.
Since June, the United Nations, US and European Union have all imposed new sanctions on Iran.
Tehran denies trying to develop a nuclear weapon, saying its nuclear programme is for peaceful energy use.