Kazakhstan prisoners' cry for help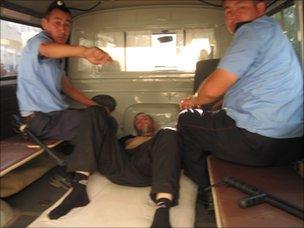 Warning: This article contains graphic images.
"I fear for my life. I feel threatened by Kazakhstan's prison system. This is a cry for help!"
Aleksandr Gaponov has served just over half of a 10-year sentence for extortion.
Speaking by mobile phone from his cell, Gaponov said he wanted to expose the truth about life in the Central Asian nation's prisons.
"I am asking for the brutal beatings and humiliation of prison inmates to stop," he said.
"There should be a way to register our complaints, so that there is some kind of response. I write complaints but every time I get beaten for it and moved to another prison."
Gaponov is still recovering from self-inflicted injuries.
Late last month in a protest against the decision to move him to yet another prison - one notorious for its violence - he cut his throat and wrists.
In the past few months dozens of prisoners across Kazakhstan have injured themselves to protest against prison conditions and their treatment.
In May, Maksim Kozhanov, an inmate at Dolinka prison in Karaganda region, recorded footage on his mobile phone that appeared to show another inmate, Yevgeniy Karaush, being beaten and kicked by a prison ward.
The footage was aired on local media, but the authorities denied the video was genuine and claimed the prisoners had staged the scene.
A few days later, Kozhanov and Karaush were among five inmates who cut open their abdomens in protest at reprisals they claimed followed the video being made public.
Then, in early July, Kozhanov was found hanged in his cell.
The Kazakh authorities say that his death was unrelated to the video footage. Kozhanov, they claimed, was a drug addict who had been thinking of taking his own life.
But his case is just one of a string of controversial incidents this summer that have put the conduct of Kazakhstan's prison authorities in the spotlight.
In early July, 14 prisoners in Akmola region cut open their abdomens.
This was followed by another incident in northern Kazakhstan in which 38 inmates maimed themselves in protest against prison conditions.
"The situation in Kazakh prisons has reached a critical point," says Vadim Kuramshin, a former prisoner who is now a human rights activist.
"The system requires cardinal changes, but no-one wants to do anything about it," he said.
"Torture is widespread. The mechanism for lodging complaints about the actions of the prison authorities does not work at all. And there is simply no response to any of the complaints."
Kuramshin was released on parole last year after serving almost four years for libel, for publishing an article in which he accused local officials of corruption.
He says he was brutally treated while behind bars: "I was tortured in Atbasar prison. The same scenario continued for nine days.
"In the morning about 10 prison guards would come to my cell, stretch my limbs and insert a rubber truncheon into my anus.
"In the evenings, they would pour chlorinated water on my clothes and leave me in a room with a broken window. During the night every hour a loud bell would ring, making it impossible to sleep."
One of the main problems with Kazakh prison colonies is overcrowding.
According to a report by the UN Special Rapporteur on Torture, Manfred Nowak, the prison population in Kazakhstan is three times the average in Europe and well above the number in other post-Soviet countries.
At the beginning of 2010 there were nearly 64,000 prisoners in Kazakh jails. Officials say that number has now been reduced to just over 60,000.
Many of the prisons date from the Soviet era, when they were used as forced labour camps, or gulags. Convicts are kept in barracks, each housing up to 100 people.
In most places access to showers are restricted to once every 10 or 12 days. Prison clothes are worn out and many complain that food rations are poor.
In his report, published last year, Mr Nowak concluded that "the use of torture and ill-treatment certainly goes beyond isolated instances".
During his inspections of detention centres and labour camps, Mr Nowak said he was concerned by the level of "preparedness" of the prisons for his visits.
He noted that some of the detention facilities had been freshly painted, and said that in some instances facilities such as disciplinary cells used for solitary confinement, which the authorities claimed were no longer in use, contained evidence of recent occupation.
His report called for the introduction of an accessible complaints mechanism to ensure that allegations of torture were investigated and complainants protected against reprisals.
But the government says it already has an effective complaints system.
"It is not true that complaints are not getting through," says Marat Shabakbayev, the interim head of the Committee of the Criminal Executive System, which has responsibility for the Kazakh penal system.
"Our actions are transparent. We have special prosecutors who monitor our work; there are also public monitoring commissions. All complaints are checked and in most cases they prove not be to be true."
Mr Shabakbayev said that the authorities did realise there were shortcomings in prison conditions but that work was being done to improve the situation.
"We are working on transferring prisoners from barracks to cells," he said. "We've abolished discrimination against HIV-positive inmates, who used to be kept in isolation - now they are kept with other prisoners."
When asked whether any prison authority had been punished for beating prisoners, he named one case which was under investigation.
Vadim Kuramshin says his top priority is to ensure that prisoners are treated fairly.
"If I had to wear a prison uniform again and was given a choice between a clean prison and one that observes the rule of law, I would definitely choose the second option," he said.