'No evidence' China milk powder caused infant breasts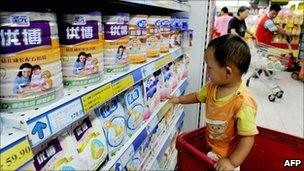 China's health ministry has said an inquiry has found no evidence milk powder produced by a Chinese company caused three infant girls to grow breasts, state media have reported.
There had been claims hormone-tainted formula made by Synutra International had caused several cases of premature puberty in Hubei province.
The Chinese firm strongly denied its products were contaminated.
Food safety problems involving formula have caused concerns in the past.
Two years ago, the chemical compound melamine was found in milk products made by 22 Chinese firms. Hundreds of thousands of children were poisoned and six died.
Following the latest scare, researchers "found nothing abnormal about the amount of hormones contained in milk powder from Synutra and other brands" after testing samples from 14 producers, the state Xinhua news agency said, citing a ministry spokesman.
It said the ministry believed breast growth in the three babies "had no connection to the Synutra milk powder".
The ministry said it tested 42 samples of Synutra milk, including some from the families' homes, and 31 samples from 14 other Chinese and foreign suppliers.
Medical tests had indicated the levels of hormones in three girls, ranging in age from four- to 15-months and who were fed the same Synutra baby formula, exceeded those of the average adult woman, the China Daily reported last week.
The infants were found to have abnormal levels of the hormones estradiol and prolactin, which stimulates the production of breast milk, Health Times reported.
On Tuesday, the father of a 13-month-old girl in Beijing told China Daily his daughter had been diagnosed with symptoms of premature puberty.
Related Internet Links
The BBC is not responsible for the content of external sites.