US joins South Korea in war games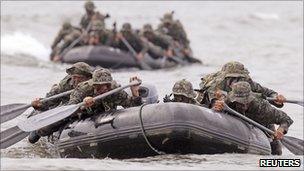 The US and South Korea have launched the latest in a series of huge military drills, despite warnings of a "merciless counterblow" from the North.
Officials said 56,000 South Koreans and 30,000 US personnel would take part in exercises aimed at improving co-ordination of their forces.
Pyongyang said the war games were a rehearsal for an invasion of the North.
Tensions have been high since March when a Southern warship was sunk - apparently by a North Korean torpedo.
Pyongyang has denied involvement in the sinking of the Cheonan, in which 46 sailors were killed.
The US and South Korea took part in huge military drills last month, in a show of strength designed to curb Pyongyang's threatening behaviour.
The latest exercise is an annual event using computer simulations and involving troops in South Korea and abroad.
Commanders said the 11-day-long drills, known as Ulchi Freedom Guardian (UFG), are defensive and involve few troop movements.
"With units participating in Korea, throughout Pacific Command, and at multiple locations across the US, UFG 10 is one of the largest Joint Staff directed theatre exercises in the world," said US Gen Walter Sharp.
"Ulchi Freedom Guardian affords the combined team an opportunity to continue to develop organisational structures and collaborate on command and control relationships between our militaries and our governments."
But Pyongyang has issued a series of strongly worded statements throughout the military exercises, and labelled the latest drills "belligerent and undisguised" war exercises aimed at the North.
"Our military and people will wield the iron hammer of a merciless counterblow," commanders were quoted as saying by the official Korean Central News Agency.
Meanwhile, this weekend President Lee Myung-bak proposed a three-step plan to achieve unification with the North.
In a speech marking 65 years since the peninsula was liberated from Japanese colonial rule, Mr Lee said the two nations should first form a peace community, then a deeper economic union and ultimately remove the other barriers to reunification.
He said a "unification tax" would fund the move, which would cost more than $1.3trn (£830bn), according to estimates by Southern politicians.
Analysts said his idea was unlikely to impress the North, where state media frequently refers to him and his supporters as traitors and sycophants.